Love knows no boundaries, and in San Francisco's vibrant LGBTQ+ community, love truly unites. With its long-standing reputation as a haven for acceptance and inclusion, the city has become an epicenter for celebrating gay weddings.
From the iconic Golden Gate Park to the bustling streets of the Castro District, San Francisco provides a picturesque backdrop for couples to exchange vows and begin their journey together. Embracing diversity and equality, the city's LGBTQ+ community has carved out a space where love is not only celebrated, but also cherished.
From intimate ceremonies to extravagant affairs, each wedding is a testament to the power of love and the strength of a community that has fought for their right to say "I do." Join us as we dive into how to plan a gay wedding in San Francisco, and discover why this city is the perfect destination for celebrating love in all its forms.
The history of gay weddings in San Francisco
San Francisco has a rich history when it comes to gay weddings. It all began with a momentous event in 2004 when the city made headlines by becoming the first in the United States to issue marriage licenses to same-sex couples. This groundbreaking move came after a long and hard-fought battle for LGBTQ+ rights.
Thousands of couples lined up outside the City Hall, eager to finally have their love recognized and celebrated. The joy and excitement were palpable as couples exchanged vows and made history together. However, the celebration was short-lived as the licenses were later invalidated due to legal challenges. Despite the setback, this historic event sparked a nationwide conversation about marriage equality and set the stage for future victories.
The fight for marriage equality in San Francisco continued, fueled by the determination of activists and LGBTQ+ communities. In 2008, the California Supreme Court ruled in favor of same-sex marriage, briefly legalizing it throughout the state. During this time, San Francisco once again saw a surge of same-sex couples tying the knot, reaffirming their love and commitment in the eyes of the law. However, this victory was bittersweet, as a few months later, Proposition 8, a ballot initiative aimed at banning same-sex marriage, passed, amending the state constitution to define marriage as between a man and a woman.
Legalization of same-sex marriage in California
Despite this devastating setback, the spirit of love and equality persevered in San Francisco. Activists and allies rallied together to challenge Proposition 8 in the courts, and in 2013, the U.S. Supreme Court struck down the ban, effectively restoring the right for same-sex couples to marry in California. Once again, San Francisco's City Hall saw a wave of joyous celebrations as LGBTQ+ couples reclaimed their right to wed.
In the years that followed, San Francisco solidified its reputation as a welcoming and inclusive destination for LGBTQ+ weddings. The city's vibrant and diverse communities offered a wide range of venues, vendors, and services tailored to cater to the unique needs of same-sex couples. Today, San Francisco continues to stand as a symbol of progress and acceptance, with countless couples from all over the world choosing to exchange vows in this iconic city by the bay. The journey of gay weddings in San Francisco has been one of resilience, love, and triumph, leaving a lasting legacy in the ongoing fight for LGBTQ+ rights and acceptance worldwide.
Read more: Gay weddings in San Francisco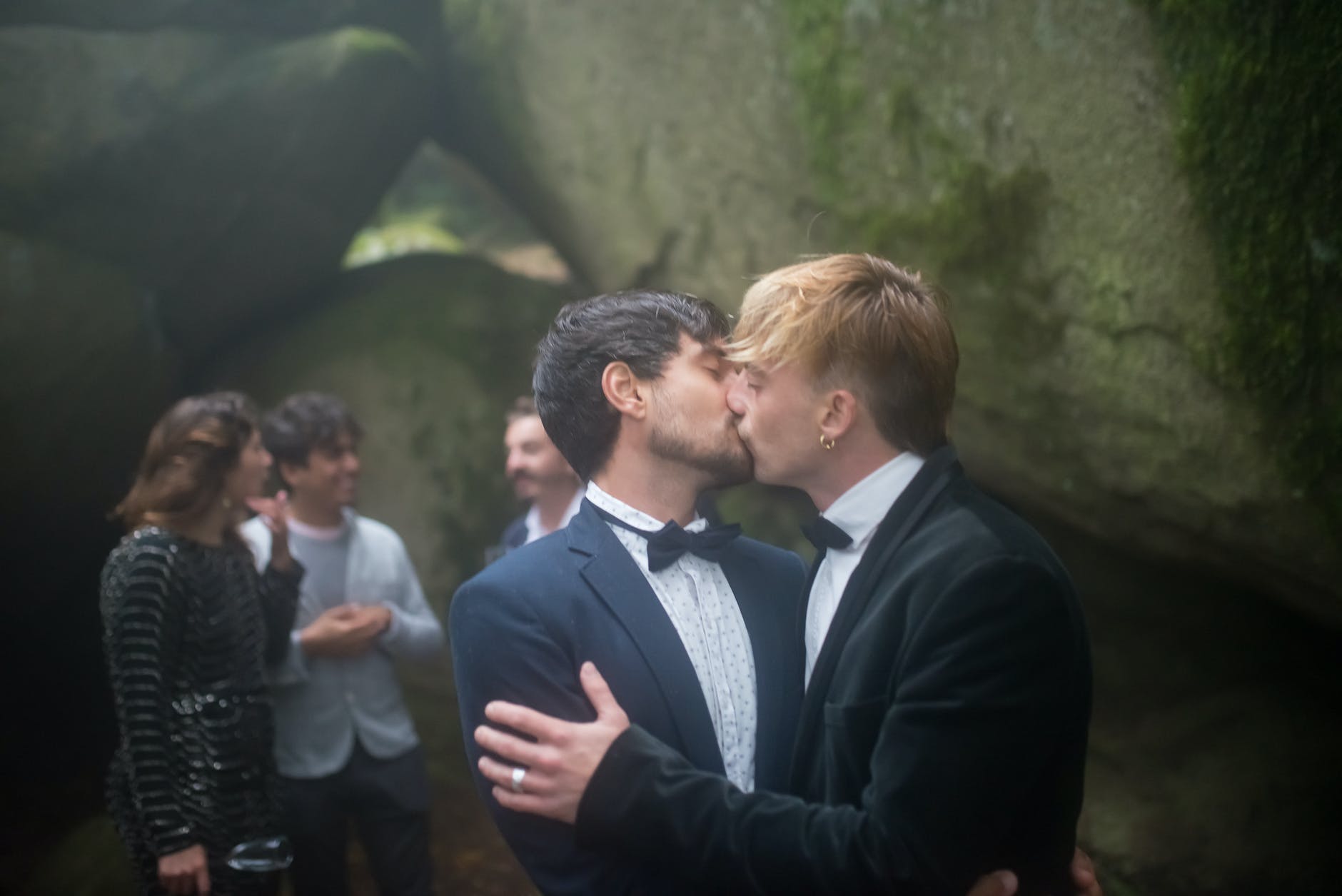 San Francisco's role in LGBTQ+ rights movement
San Francisco has long been at the forefront of the LGBTQ+ rights movement. From the infamous Stonewall Riots in 1969 to the ongoing fight for equality today, the city has been a beacon of hope and resilience for the LGBTQ+ community. The Castro District, in particular, has played a significant role in the fight for LGBTQ+ rights.
It has been a safe haven and a place of empowerment for the community, offering support, resources, and a sense of belonging. The annual San Francisco Pride Parade, which attracts millions of people from around the world, is a testament to the city's commitment to celebrating diversity and advocating for LGBTQ+ rights. San Francisco's role in the LGBTQ+ rights movement is not only a source of pride for the community but also a reminder of the progress that has been made and the work that still needs to be done.
Read more: Gay San Francisco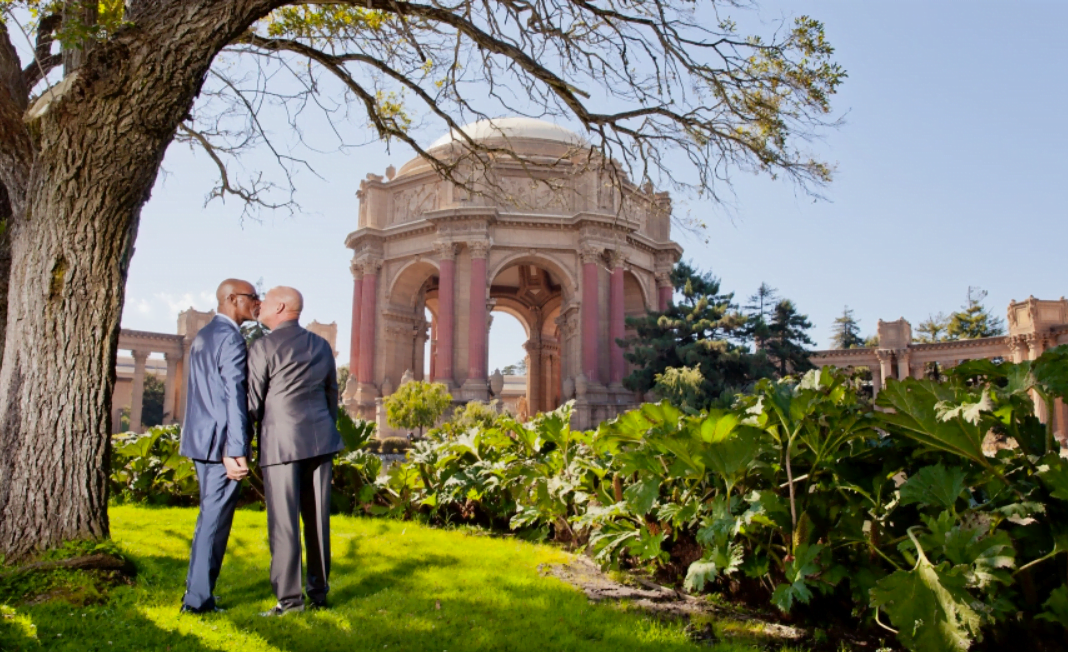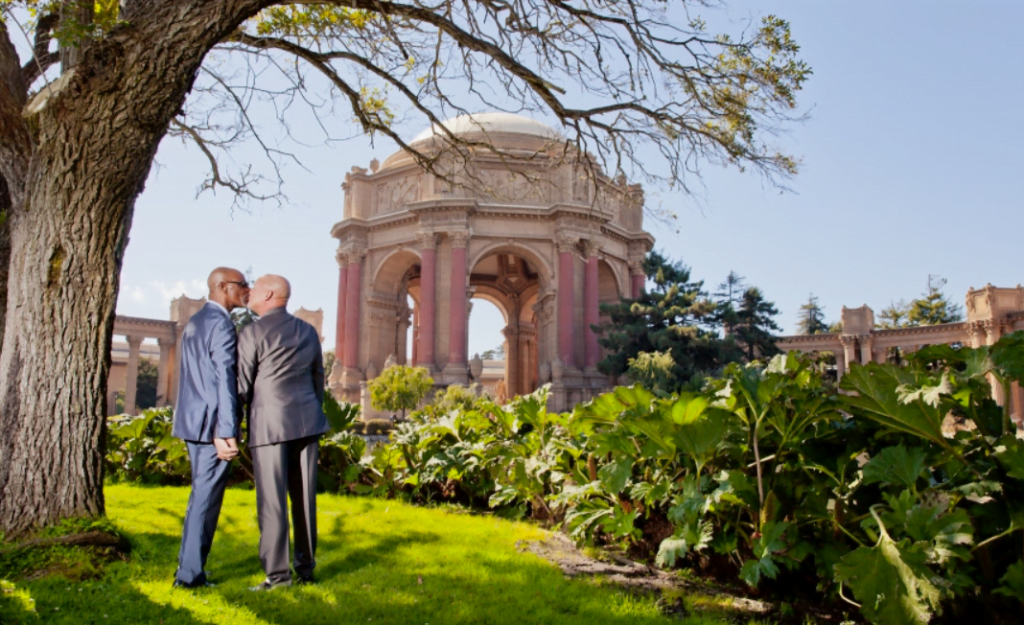 Photo: Ismael Lamoru and Charles Bell marry in San Francisco
The vibrant LGBTQ+ wedding industry in San Francisco
With its reputation as a progressive and inclusive city, it's no surprise that San Francisco has a thriving LGBTQ+ wedding industry. From wedding planners and San Francisco gay wedding photographers to venues and caterers, there are countless businesses dedicated to helping LGBTQ+ couples create their dream weddings.
Choosing a reputable supplier is important, to ensure that you are able to celebrate your love in the way you want. A good vendor understands the unique needs and desires of LGBTQ+ couples and is committed to providing inclusive and personalized services. Whether couples envision a traditional ceremony or a more unconventional celebration, there are options for every taste and budget. The LGBTQ+ wedding industry in San Francisco not only provides essential services but also fosters a sense of community and support for couples as they navigate the wedding planning process.
Read more: Gay wedding florists in San Francisco
Popular wedding venues for gay weddings in San Francisco
San Francisco offers a wide range of stunning wedding venues that are popular among gay couples. One of the most iconic and sought-after locations is the Golden Gate Park. With its lush gardens, scenic views, and historic landmarks, it provides a romantic and picturesque setting for outdoor weddings. The Conservatory of Flowers and the Japanese Tea Garden are particularly popular among couples looking for a unique and memorable backdrop for their special day.
For those seeking a more urban and contemporary setting, San Francisco offers plenty of chic spaces with breathtaking views of the city skyline. Many of the city's five star hotels are also booked by couples who desire a touch of elegance and grandeur for their wedding. From parks to hotels, San Francisco has no shortage of stunning venues that cater to the diverse tastes and preferences of gay couples.
Read more: Gay wedding venues in San Francisco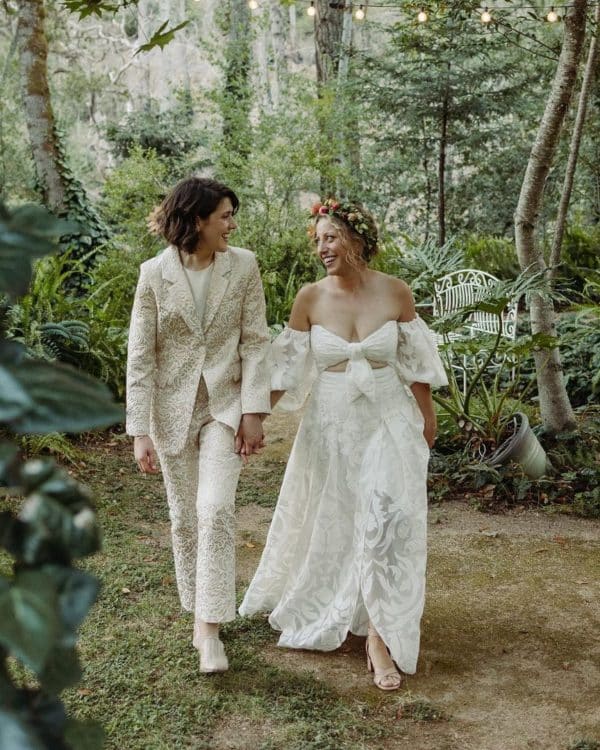 Planning tips for gay weddings in San Francisco
Planning a gay wedding in San Francisco can be an exciting and rewarding experience. Here are some tips to ensure that your special day is everything you've dreamed of:
1. Research LGBTQ+ friendly vendors and services: San Francisco is home to numerous LGBTQ+ friendly vendors and services. Take the time to find businesses that understand and embrace your vision for your wedding. This will not only make the planning process smoother but also ensure that your wedding reflects your identity and values. Helpful link: LGBTQ+ friendly wedding vendors in San Francisco.
2. Explore unique wedding venues: San Francisco offers a plethora of unique wedding venues that cater to a variety of tastes and preferences. Consider venues such as Golden Gate Park, historic landmarks, or even private estates for a more intimate and personalized experience.
3. Incorporate LGBTQ+ symbols and traditions: Embrace your identity and celebrate your love by incorporating LGBTQ+ symbols and traditions into your wedding. Whether it's a rainbow-themed cake, a symbolic unity ceremony, or LGBTQ+ pride-inspired decorations, these elements can add a meaningful touch to your special day.
4. Connect with the LGBTQ+ community: San Francisco's LGBTQ+ community is incredibly supportive and welcoming. Attend LGBTQ+ wedding expos, join online forums, and connect with other couples who have planned gay weddings in the city. Their experiences and advice can be invaluable during the planning process. Use a resource like Travel Gay to help find other LGBTQ+ friendly things in the San Francisco.
5. Take advantage of San Francisco's natural beauty: San Francisco is known for its stunning natural landscapes. Consider incorporating the city's natural beauty into your wedding by choosing outdoor venues or incorporating nature-inspired elements into your decor.
And finally
San Francisco's vibrant LGBTQ+ community has created a haven for love and acceptance. From its historic role in the fight for LGBTQ+ rights to its thriving wedding industry, the city is a destination for couples who want to celebrate their love in a place that embraces diversity and equality.
The stories of couples who have tied the knot in San Francisco are a testament to the power of love and the strength of a community that has fought for their right to say "I do." As we continue to celebrate love and diversity, let us remember that San Francisco is more than just a city—it's a symbol of hope, acceptance, and the enduring power of love.