Are you ready to embark on a journey to plan your dream gay wedding in the vibrant and diverse city of New York? Look no further! In this step-by-step guide, we will walk you through the process of creating a wedding that reflects your unique love story and celebrates your commitment to each other. From choosing the perfect venue that captures the essence of your love, to selecting a color palette that sets the mood for your special day, we have got you covered.
With its rich history, stunning architecture, and thriving LGBTQ+ community, New York City offers an endless array of options to make your wedding truly unforgettable. Whether you envision an intimate ceremony in Central Park or a glamorous reception in a stylish loft, our expert tips and insights will help you navigate the planning process with ease. Get ready to say "I do" in the city that never sleeps and let your love shine in the Big Apple.
Legal requirements for same-sex marriages in New York City
Planning your dream wedding begins with understanding the legal requirements for same-sex marriages in New York City. The good news is that New York has been at the forefront of LGBTQ+ rights, legalizing same-sex marriage in 2011.
To obtain a marriage license, both partners must be at least 18 years old and present valid identification. The City Clerk's office is responsible for issuing marriage licenses, and you can make an appointment online to streamline the process. It's important to ensure that your marriage is legally recognized, so make sure to familiarize yourself with the necessary paperwork and requirements.
Read more: Gay weddings in New York City
Choosing the perfect location for your gay wedding in NYC
New York City offers a plethora of stunning locations for your gay wedding, each with its own unique charm. Whether you're drawn to the iconic skyline views of Manhattan, the historic brownstones of Brooklyn, or the lush gardens of Central Park, there is a venue that will perfectly capture the essence of your love story.
Consider the size of your guest list, the ambiance you desire, and the logistical aspects such as accessibility and parking. From rooftop gardens and trendy art galleries to luxurious ballrooms and historic landmarks, the options are endless. Take your time to visit different venues, envisioning how each space can be transformed into the backdrop of your dreams.
Read more: Gay New York
Selecting the right vendors for your dream gay wedding
Once you have chosen the perfect location for your gay wedding in NYC, it's time to assemble your dream team of vendors and suppliers. From photographers and florists to caterers and musicians, selecting the right professionals is crucial to creating a memorable and seamless wedding experience. Seek out vendors who are LGBTQ+-friendly and have experience working with same-sex couples.
Look for portfolios that reflect a diverse range of couples and styles, ensuring that your unique love story will be captured authentically. Don't be afraid to ask for references and meet with potential vendors to gauge their compatibility with your vision and personalities. Remember, your vendors will play a significant role in bringing your dream wedding to life, so choose wisely. Some couples will choose to find a New York gay wedding planner to help them sift through the huge number of potential wedding suppliers available.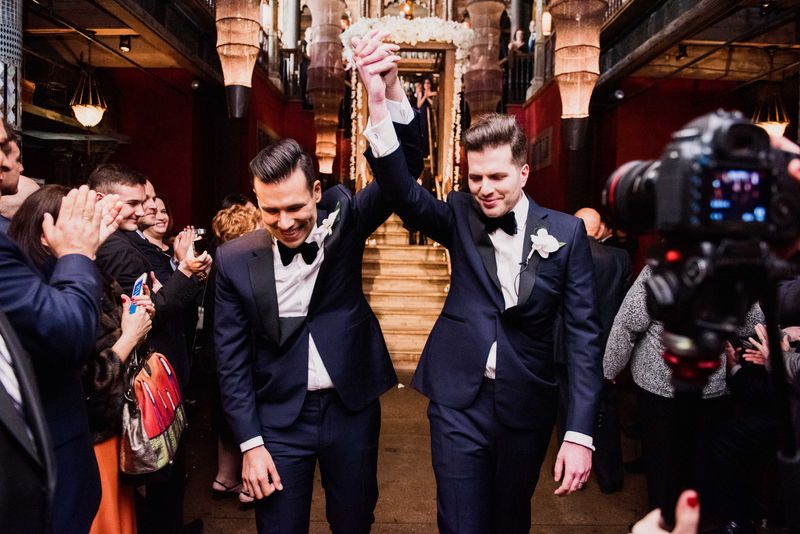 Creating a budget for your gay wedding in NYC
As with any wedding, it's essential to establish a budget for your gay wedding in NYC. Determine how much you and your partner are comfortable spending and allocate funds to different aspects of the wedding, such as venue, catering, attire, and entertainment. Research the average costs of weddings in New York City and use that as a starting point.
Keep in mind that there may be additional expenses specific to LGBTQ+ weddings, such as gender-neutral attire and LGBTQ+ inclusive services. Be transparent with your vendors about your budget from the beginning to avoid any surprises later on. Remember, it's possible to have a beautiful and memorable wedding at any budget level, as long as you prioritize what's most important to you.
Designing your wedding invitations and other stationery
Your wedding invitations and other stationery serve as the first glimpse into your wedding style and theme. Get creative and design invitations that reflect your personalities and the tone of your wedding. Whether you choose traditional paper invitations or opt for digital alternatives, make sure to include all the essential details, such as the date, time, and location of the wedding.
Consider adding a personal touch by including a heartfelt message or a custom illustration that represents your love story. Perhaps use a photo of your engagement if you have one. Don't forget to create a cohesive look by carrying your design elements throughout other stationery items, such as save-the-dates, programs, and seating cards. Your wedding stationery should not only be informative but also a reflection of your love and excitement for your special day.
Read more: How to propose in Central Park
Planning your wedding ceremony and reception
The wedding ceremony and reception are the heart of your celebration, where you and your partner will exchange vows and celebrate your love with family and friends. When planning your gay wedding in NYC, there are countless ways to make your ceremony and reception unique and meaningful. Consider incorporating LGBTQ+ wedding traditions, such as a unity candle ceremony or a handfasting ritual, to honor your love and commitment.
Customize your ceremony by writing your own vows or involving loved ones in readings and performances. When it comes to the reception, the possibilities are endless. From live bands and DJs to drag queen performances and surprise flash mobs, let your imagination run wild and create an unforgettable party that reflects your personalities and love story.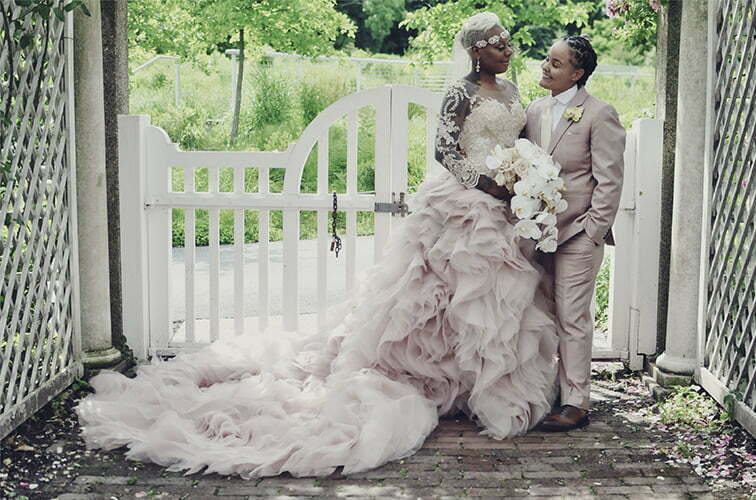 Choosing the perfect LGBTQ+-friendly wedding photographer
Your wedding photos will be cherished for a lifetime, capturing the precious moments of your special day. When choosing a wedding photographer for your gay wedding in NYC, it's crucial to find someone who not only has the technical skills but also understands and celebrates same-sex love.
Look for photographers who specialize in LGBTQ+ weddings and have a portfolio that showcases their ability to capture genuine emotions and unique love stories. Schedule consultations with potential photographers to get a sense of their style and personality.
Chemistry between you and your photographer is essential, as it will help you feel comfortable and relaxed, resulting in more authentic and beautiful photos.
Read more: Gay wedding photographers in New York
Ideas for unique and memorable LGBTQ+ wedding traditions
Incorporating LGBTQ+ wedding traditions into your celebration can add a meaningful and personal touch to your gay wedding in NYC. Consider including a "breaking the glass" ceremony, which symbolizes the breaking down of barriers and the triumph of love.
Another option is a "rainbow ribbon ceremony," where guests tie colorful ribbons around your wrists to signify their support and love for your union. If you and your partner have cultural or religious backgrounds, explore ways to incorporate those traditions into your wedding, making the day even more meaningful and inclusive.
Remember, your wedding is a celebration of love, diversity, and equality, so embrace the opportunity to create unique and memorable LGBTQ+ wedding traditions.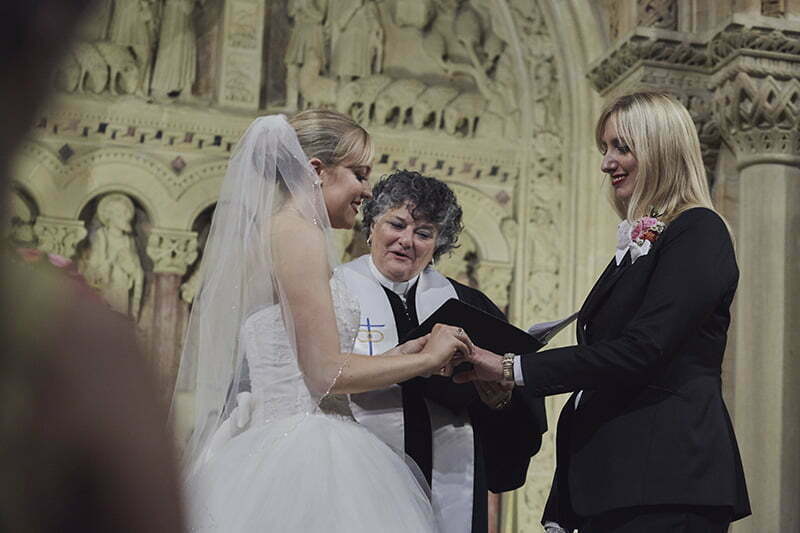 Tips for managing the stress of wedding planning
Planning a wedding can be stressful, regardless of your sexual orientation. To ensure a smooth and enjoyable planning process for your gay wedding in NYC, it's important to take care of your mental and emotional well-being.
Set realistic expectations and prioritize self-care throughout the planning process. Delegate tasks to trusted friends and family members to lighten the load and seek professional help if needed. Remember that this is a celebration of love, and the most important thing is that you and your partner are happy. Take breaks, stay organized, and don't forget to celebrate the milestones along the way. This is a once-in-a-lifetime experience, so make sure to enjoy every moment.
Incorporating LGBTQ+ activism into your wedding celebration
Your gay wedding in NYC is not just a celebration of your love but also an opportunity to promote LGBTQ+ rights and equality. Consider incorporating elements of activism into your wedding celebration to raise awareness and support for causes that are important to you. Don't forget events at The Stonewall Inn in 1969 was the start of the modern gay rights movement and so is very much at home in New York.
Whether it's donating a portion of your wedding budget to LGBTQ+ organizations, incorporating rainbow-themed decorations and accessories, or having an LGBTQ+-focused photo booth, there are various ways to make a statement and celebrate your love while advocating for change. Your wedding can be a powerful platform to inspire others and create a more inclusive society.
Finalizing the details and preparing for your dream gay wedding
As your wedding day approaches, it's time to finalize the remaining details and prepare for your dream gay wedding in NYC. Confirm all vendor contracts and make any necessary adjustments. Create a detailed timeline and share it with your wedding party and vendors to ensure everyone is on the same page. Schedule dress fittings, hair and makeup trials, and any other pre-wedding appointments to ensure you look and feel your best on your special day.
Don't forget to communicate with your guests, providing them with all the necessary information, such as transportation options and accommodations. The final weeks leading up to your wedding should be filled with excitement and anticipation, so take a moment to soak it all in and enjoy the journey.
And finally
Planning your dream gay wedding in vibrant New York City is an exciting and rewarding experience. From navigating the legal requirements to choosing the perfect location, vendors, and LGBTQ+-friendly accommodations, each step brings you closer to creating a wedding that reflects your unique love story. Embrace the opportunity to incorporate LGBTQ+ wedding traditions and activism into your celebration, making a meaningful statement while surrounded by your loved ones.
Remember to take care of yourself throughout the planning process and enjoy every moment leading up to your dream wedding. You deserve a wedding that is as vibrant and unforgettable as the city itself. Say "I do" in the city that never sleeps and let your love shine in the Big Apple.