Love knows no boundaries, and in the beautiful city of Boston, couples from all walks of life can celebrate their love in the most spectacular way. With its vibrant LGBTQ+ community and progressive attitude, the Bay State offers a plethora of opportunities for same-sex couples to plan a truly memorable wedding. From stunning venues that exude elegance and charm to an array of talented vendors ready to bring your vision to life, Boston has it all.
In this guide, we will take you on a journey through the process of planning a gay wedding in this captivating city. From choosing the perfect location to selecting the best LGBTQ-friendly vendors, we will provide you with invaluable tips and advice to ensure that your special day is everything you've ever dreamed of. So, let's dive in and explore how you can celebrate love in the Bay State like never before.
Legal requirements for gay weddings in Massachusetts
Planning a gay wedding in Boston starts with understanding the legal requirements. Thankfully, Massachusetts has been a pioneer in LGBTQ+ rights, being the first state to legalize same-sex marriage in 2004. To get married in Massachusetts, regardless of your sexual orientation, you need to obtain a marriage license. The process is straightforward, requiring both partners to appear in person at the City Clerk's office with valid identification. Keep in mind that there is a three-day waiting period before the license is issued, so plan accordingly.
When applying for a marriage license, ensure that the office is aware of your gender identity and sexual orientation to ensure a smooth process. It's also important to note that Massachusetts recognizes same-sex marriages performed in other states and countries where it is legal. This means that if you're already legally married elsewhere, you can have a celebration or reaffirmation of vows in Boston without the need for an additional marriage license.
Read more: Gay weddings in Boston
Choosing the perfect wedding venue in Boston
Boston presents a diverse array of wedding venues to suit every preference and style. Whether you envision a cozy garden ceremony or a lavish ballroom celebration, the city provides an enchanting backdrop for exchanging your vows. One beloved choice among same-sex couples is an iconic hotel in the heart of the city, known for its refined event spaces that exude sophistication and allure.
For those seeking a contemporary and trendy atmosphere, there is a distinctive venue located within the walls of a historic former jail. This exceptional property seamlessly combines the allure of its past with modern luxury. Its rooftop terrace offers awe-inspiring views of the city skyline, creating a truly unforgettable setting for your wedding ceremony or reception.
If a waterfront ambiance appeals to you, there is an exceptional option available at the shores of Boston Harbor. This venue showcases picturesque views of the harbor and boasts luxurious amenities. It's no surprise that numerous couples select this location for their special day.
Read more: Gay wedding venues in Boston
Finding LGBTQ+ friendly wedding vendors in Boston
When planning a gay wedding in Boston, it is crucial to find vendors who are not only talented but also LGBTQ+-friendly. Fortunately, Boston has a vibrant LGBTQ+ community, and many businesses actively support and cater to same-sex couples. To ensure that you're working with inclusive vendors who understand and respect your vision, consider seeking recommendations from LGBTQ+ wedding directories, such as Gay and Lesbian Weddings.
When reaching out to vendors, ask questions about their experience working with same-sex couples and their approach to inclusivity. Look for wedding professionals who embrace diversity and are eager to create an inclusive and welcoming environment for all. From wedding photographers in Boston who capture the essence of your love to caterers who can accommodate a range of dietary preferences, Boston has a wealth of talented and LGBTQ+-friendly vendors to choose from.
Read more: Gay Boston
Creating a budget for your gay wedding
One of the first steps in planning any wedding is setting a budget. A gay wedding in Boston can be as extravagant or as intimate as you desire, but it's essential to have a clear understanding of your financial resources and priorities. Start by discussing your expectations and priorities as a couple, and allocate funds accordingly. Consider factors such as the venue, catering, photography, entertainment, and any additional elements that are important to you.
To make the most of your budget, consider getting creative with DIY elements or repurposing decorations from previous events. Another option is to prioritize certain aspects of your wedding that hold particular significance to you and allocate more funds accordingly. Remember that a memorable wedding is not solely determined by the amount of money spent but rather by the love and joy shared with your partner and loved ones.
Designing a unique and inclusive wedding ceremony
Your wedding ceremony is a beautiful opportunity to express your love and commitment to one another. When designing your ceremony, consider incorporating elements that reflect your unique journey as a couple and celebrate your shared values. From personalized vows that tell your love story to rituals and traditions that hold special meaning to you, make sure your ceremony reflects your authentic selves.
Inclusivity is a key aspect of a gay wedding, so consider ways to involve your guests in the celebration. For example, you can invite loved ones to share readings or perform songs that hold significance to your relationship. Additionally, consider having a diverse wedding party that includes close friends and family members from all walks of life. By creating a ceremony that embraces diversity and inclusivity, you'll set the tone for a truly memorable celebration of love.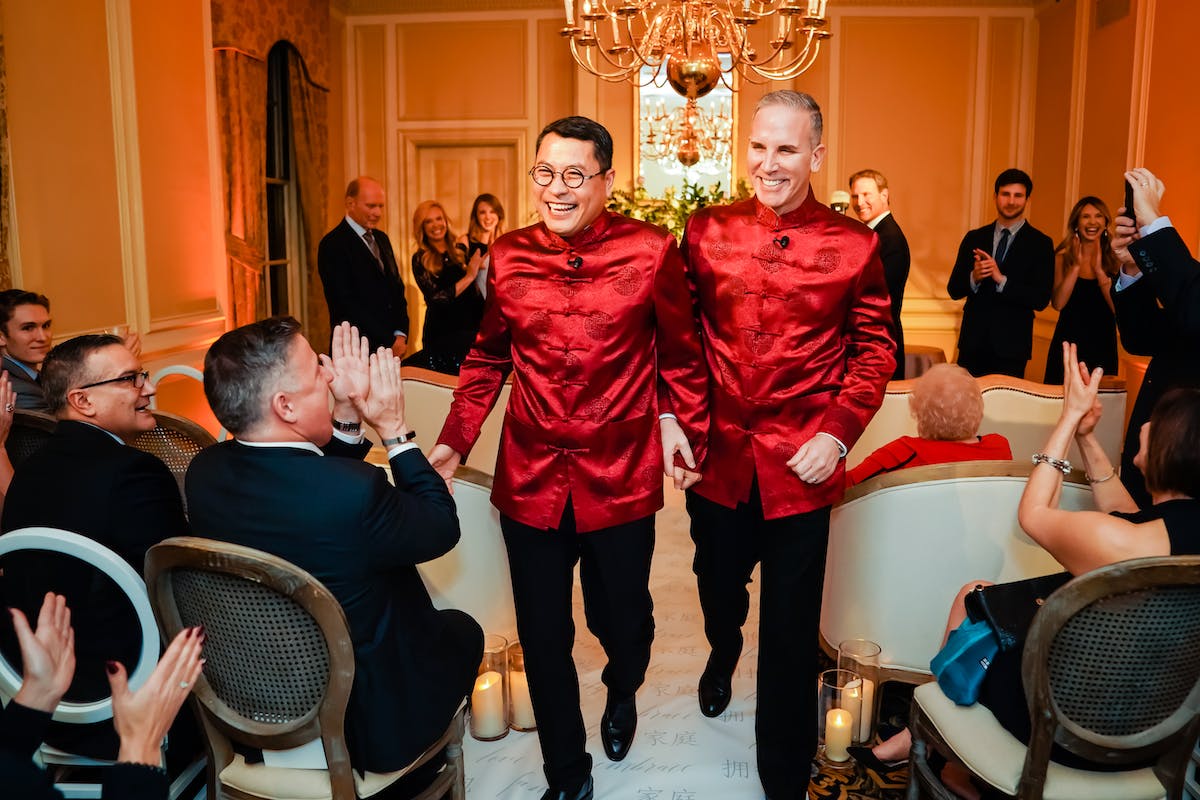 LGBTQ+ wedding photography and videography tips
Capturing the precious moments of your gay wedding is essential, and choosing the right photographer and videographer is key. When selecting your photography and videography team, look for professionals who have experience working with LGBTQ+ couples. They should have a portfolio that showcases their ability to capture the emotions and authenticity of same-sex weddings.
During your initial meetings, discuss your vision and expectations for the photos and videos. Share any specific shots or moments that are important to you, and ask for their creative input. It's also crucial to ensure that your photographer and videographer make you feel comfortable and at ease, as this will result in more natural and candid images.
On the day of your wedding, be open and authentic with your emotions, allowing the photographer and videographer to capture the true essence of your love. Consider incorporating props or elements that represent your identity as a couple, such as Pride flags or symbolic accessories. By working closely with your photography and videography team, you'll create a collection of images and videos that will transport you back to the joyous moments of your special day.
Read more: Wedding videographers in Boston
Planning a memorable reception in Boston
The reception is the perfect opportunity to celebrate your love and create lasting memories with your guests. When planning your gay wedding reception in Boston, consider infusing elements that reflect your personalities and shared interests. From the music playlist to the menu, every detail should exude your unique style.
To create a lively and inclusive atmosphere, consider hiring a DJ or band that specializes in LGBTQ+ weddings. They will have a deep understanding of the music that resonates with your community and can create a playlist that keeps everyone on the dance floor. Additionally, consider incorporating interactive elements or games that engage your guests and create a sense of community.
In terms of catering, Boston offers a diverse culinary scene that can cater to a range of dietary preferences. Work with your caterer to design a menu that showcases your favorite flavors and incorporates local specialties. Consider offering a variety of options, including vegan, gluten-free, and allergy-friendly dishes, to ensure that all your guests can fully enjoy the culinary delights of your wedding reception.
LGBTQ+ wedding traditions and customs
While every couple has the freedom to create their own wedding traditions and customs, there are several LGBTQ+-specific traditions that you may choose to incorporate into your gay wedding in Boston. One such tradition is the "breaking of the glass," which is often included in Jewish same-sex weddings. This symbolizes the breaking down of barriers and the celebration of newfound freedom.
Another LGBTQ+ wedding tradition is the "handfasting" ceremony, which involves the binding of the couple's hands with ribbons or cords. This ancient Celtic ritual symbolizes the union and commitment between the partners. Incorporating these or other LGBTQ+-specific traditions into your wedding can add depth and meaning to your ceremony, allowing you to honor your identity and celebrate your love in a unique way.
Read more: Gay wedding reading inspiration
Honoring your love story through personalized wedding details
Personalizing your wedding details is a beautiful way to honor your love story and create a unique experience for your guests. Consider incorporating elements that reflect your journey as a couple, such as displaying photographs from significant moments in your relationship or creating a timeline that highlights important milestones.
Another way to personalize your wedding is through the selection of colors, themes, and decorations that hold special meaning to you. For example, you can incorporate the colors of the Pride flag into your wedding palette or use LGBTQ+-themed table centerpieces. The possibilities are endless, so let your imagination run wild and infuse your wedding with the essence of your love.
Navigating potential challenges and obstacles
While planning a gay wedding in Boston can be an incredibly joyous experience, it's essential to acknowledge and address potential challenges that may arise. Despite Massachusetts being a progressive state, it's still possible to encounter individuals or businesses who may not be fully supportive of same-sex weddings. However, by doing thorough research and choosing LGBTQ+-friendly vendors, you can minimize the likelihood of facing any discrimination.
It's also important to communicate openly and honestly with your loved ones about your wedding plans. While most friends and family members will be thrilled to celebrate your love, some may have reservations or concerns. Give them the opportunity to express their feelings and provide reassurance that their support is valuable to you. Surround yourself with a strong support system that will uplift and celebrate your love throughout the wedding planning process.
Embracing love and celebrating diversity
Planning a gay wedding in Boston is an opportunity to embrace love and celebrate the diversity that makes our world so beautiful. From legal requirements to choosing the perfect venue, we've covered essential aspects of planning a same-sex wedding in the Bay State.
By finding LGBTQ+-friendly vendors, designing a unique and inclusive ceremony, and personalizing your wedding details, you can create a day that authentically reflects your love and brings joy to all who attend.
Remember to navigate potential challenges with grace and seek support when needed, as you deserve nothing less than a wedding that is as extraordinary as your love. So, go forth, celebrate love, and create memories that will last a lifetime in the vibrant city of Boston.