Elegant wedding cakes made with fresh ingredients and a variety of flavors and designs in Philadelphia. LGBTQ+ friendly.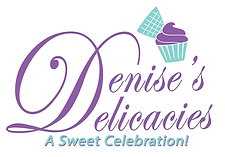 Wedding Suppliers
Try:Venues in LondonLas Vegas Photographers
Information
Denise's Delicacies, based in Philadelphia, offers a variety of elegant styles and enchanting designs for wedding cakes. They use only the finest and freshest ingredients available to bake their cakes to order. Their wedding cakes are made from their renowned butter pound cake recipe, which is available in several flavors.
The tiers of the cakes are frosted with their delicious vanilla buttercream, made from scratch with quality churned butter. They can also finish your cake with rolled fondant, which is carefully molded over your cake for an additional dimension of extraordinary elegance and an ultra-smooth finish. Denise's Delicacies is a great choice for couples looking for wedding cakes for gay weddings in Philadelphia and Pennsylvania.
Denise's Delicacies is a perfect choice for LGBTQ+ couples planning their wedding. They offer a variety of styles and flavors to choose from, ensuring that every couple can find the perfect cake for their special day. They are committed to using only the freshest and finest ingredients, ensuring that every cake is made to perfection. If you're looking for a delicious and beautiful wedding cake for your gay wedding in Philadelphia or Pennsylvania, Denise's Delicacies is the perfect choice.
Features
Denise's Delicacies

Make an Enquiry
Denise's Delicacies

Location on Map
Denise's Delicacies

Reviews
Denise's Delicacies

Gallery
Philadelphia

,

Pennsylvania

Wedding Suppliers
Summary of your venue:
Expert wedding planning services for same-sex weddings and other celebrations in Greater Philadelphia region. Personalized and budget-friendly.
Events With ShaBars is a black, queer, and veteran-owned business that offers expert wedding planning services in the Greater Philadelphia
Read more...
Philadelphia
,
United States
View Supplier
Summary of your venue:
Philadelphia-based wedding planners offer personalized packages for LGBTQ+ couples with a focus on inclusivity and support.
Events By Merida is a Philadelphia-based wedding planning company that caters to LGBTQ+ couples. They offer a range of packages
Read more...
Philadelphia
,
United States
View Supplier
Summary of your venue:
A Philadelphia bakery offers exquisite wedding cakes and personalized designs, including for same-sex couples.
Bredenbeck's Bakery, located in the heart of Chestnut Hill, Philadelphia, has been serving customers since 1889. Known for their exquisite
Read more...
Philadelphia
,
United States
View Supplier