Are you planning the wedding of your dreams in the vibrant and inclusive city of London? Our comprehensive guide is here to help you navigate every step of the way, from vows to venue, ensuring that your special day is nothing short of extraordinary. With its rich history, diverse culture, and stunning locations, London offers endless possibilities for creating a truly memorable gay wedding.
Whether you're a local or considering a destination wedding, this guide will provide you with all the essential information you need to plan your perfect celebration. From finding LGBTQ+-friendly suppliers to exploring unique wedding venues, we've got you covered. Get ready to embark on a journey filled with love, joy, and unforgettable moments as we help you create the wedding of your dreams in the heart of London. Let the planning begin!
Legal rights and regulations for same-sex marriages in London
London is a city that embraces diversity and equality, and this is reflected in its legal framework for same-sex marriages. Since the legalization of same-sex marriage in the United Kingdom in 2014, gay couples have enjoyed the same rights and protections as heterosexual couples when it comes to tying the knot.
The Marriage (Same Sex Couples) Act 2013 made it possible for same-sex couples to legally marry in England and Wales, including London. Preceded by the The Civil Partnership Act which gave same-sex couples the right to enter into a civil partnership from 2005, the new legislation means that you can have a legally recognized wedding ceremony and obtain a marriage certificate, just like any other couple.
LGBTQ+ friendly wedding venues in London
London boasts a wide range of LGBTQ+ friendly wedding venues, each with its own unique charm and character. From grand ballrooms to intimate garden settings, there is a venue to suit every couple's taste and style.
Firstly, prioritize LGBTQ+ inclusivity, ensuring the venue embraces and respects your love and identity. Look for venues with a track record of hosting same-sex weddings, creating an environment where you can be unapologetically yourselves.
Secondly, consider the venue's capacity, ambiance, and style, ensuring it aligns with your wedding vision and theme. Whether you dream of a chic urban loft, a picturesque garden, or a historic mansion, London offers a plethora of options to match your preferences.
Lastly, be mindful of your budget and any hidden costs, seeking transparency in pricing to avoid unwelcome surprises. With thorough research and a discerning eye, finding the ideal gay wedding venue in London will set the stage for an unforgettable and love-filled celebration. Whether you prefer a traditional or modern setting, London has a plethora of LGBTQ+ friendly wedding venues that will make your special day truly unforgettable.
Read more: Gay wedding venues in London
LGBTQ+ wedding suppliers and services in London
When planning your gay wedding in London, it is essential to find vendors and services that are not only talented but also LGBTQ+ friendly. From photographers to caterers, there are many professionals in London who specialize in LGBTQ+ weddings and understand the unique needs and desires of gay couples.
By choosing LGBTQ+ friendly vendors and services, you can ensure that your wedding is a true reflection of your love and identity.
Read more: Gay weddings in London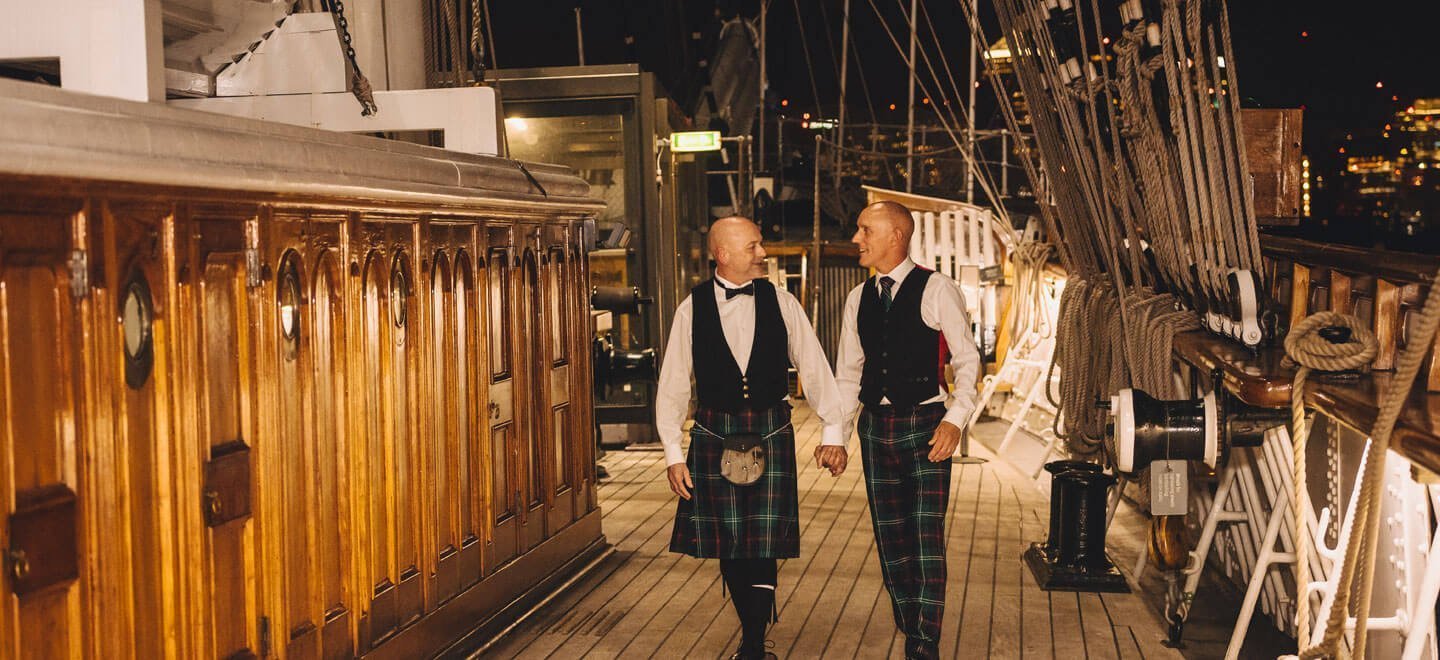 LGBTQ+ wedding traditions and trends in London
While traditional wedding customs are still prevalent in London, many LGBTQ+ couples are also embracing new and unique wedding traditions and trends that celebrate their love and identity. One popular trend is the use of rainbow colors in wedding decor, invitations, and attire. The rainbow flag, which has long been a symbol of LGBTQ+ pride, is often incorporated into weddings as a way to showcase love and support for the community.
Another growing trend is the inclusion of gender-neutral wedding parties, where bridesmaids and groomsmen can wear attire that matches their personal style, regardless of gender. Additionally, many LGBTQ+ couples are opting for non-traditional wedding ceremonies that reflect their own beliefs and values. Whether it's a handfasting ceremony, a unity candle ceremony, or a personalized exchange of vows, the possibilities are endless. London provides the perfect backdrop for embracing new wedding traditions and trends that are inclusive and meaningful.
Another helpful resource is to look for gay friendly accommodation and things to do in London. Research using a reputable resource like Travel Gay and their Gay London pages.
Read more: How To Plan a Gay Stag Do!
LGBTQ+ wedding inspiration and ideas for London weddings
If you're looking for wedding inspiration and ideas for your London wedding, you're in luck! The city offers a wealth of inspiration, from its iconic landmarks to its vibrant arts and culture scene. For a quintessentially London wedding, consider incorporating elements such as red double-decker buses, black taxis, or traditional British fare into your celebration.
If you're a fan of the arts, why not host your wedding reception at one of London's world-renowned museums or art galleries? All of London's main museums offer stunning event spaces that can be transformed into a truly unique wedding venue. London's rich history and diverse neighborhoods also provide endless inspiration. Let your imagination run wild and create a wedding that is as unique and vibrant as London itself.
Read more: Gay Wedding Reading Inspiration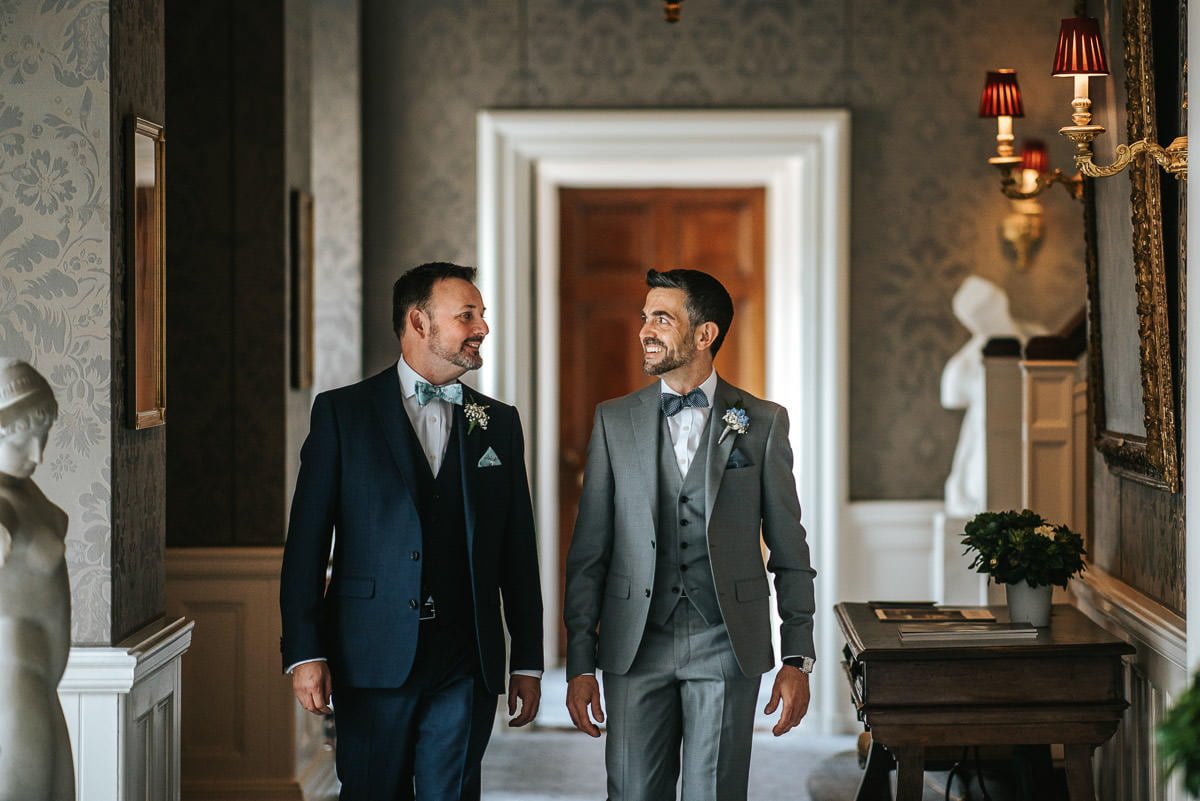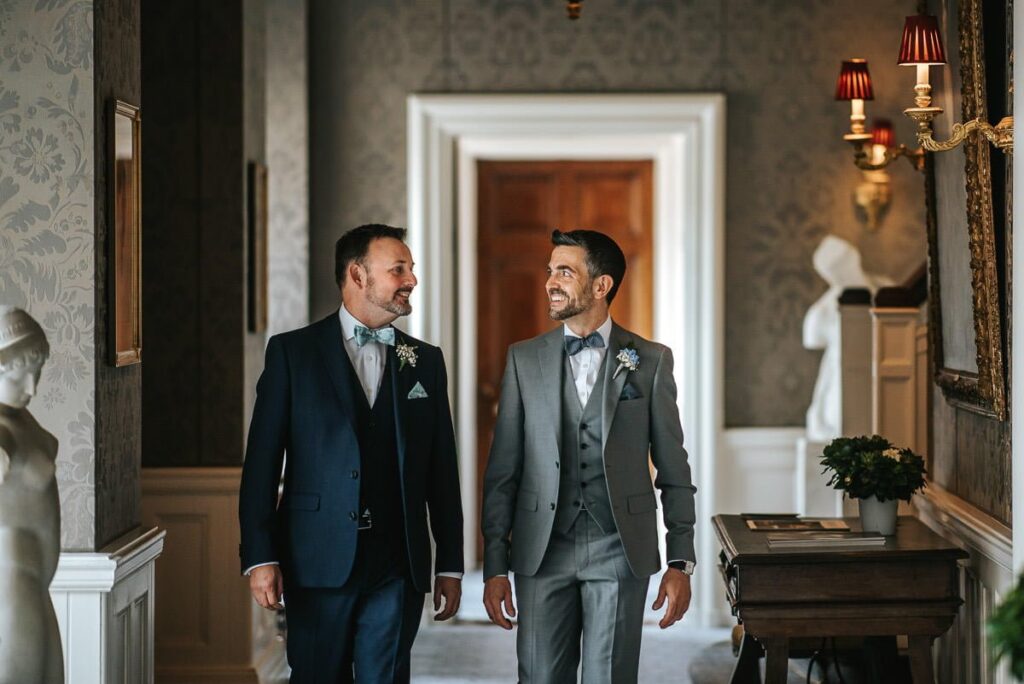 Gay-friendly wedding photographers in London
When selecting a gay-friendly wedding photographer in London, look for a professional who not only possesses exceptional photography skills but also demonstrates a genuine understanding and appreciation for LGBTQ+ love stories. Seek out photographers who have experience capturing same-sex weddings, as they will be attuned to the unique dynamics and nuances of LGBTQ+ relationships.
A gay-friendly photographer should make you and your partner feel comfortable and accepted, allowing your love to shine naturally in front of the camera. Prioritize open-mindedness, sensitivity, and inclusivity in their portfolio and client testimonials.
Communication is key, so choose someone who actively listens to your vision and incorporates your preferences into their artistic approach. With a gay-friendly wedding photographer, you can confidently capture every cherished moment of your special day, knowing that they will authentically document the beauty and significance of your love story.
Read more: Gay wedding photographers in London