We all know how stressful wedding planning can be, so we want to help you to stay stress-free while planning your gay wedding. From gender-roles, to invitations – it can all become very stressful very quickly. We have put together a list of helpful suggestions and tips on how to minimise stress and focus more on the excitement and joy of wedding planning.
Weddings are supposed to be a time of celebration and joy, but everyone knows they can become tiresome when planning. From unreliable vendors, to disappointment in trying to hire a specific venue – it can become overwhelming very quickly. Our best advice is to make yourself a hot drink, sit down with this guide and prepare yourself for the adventure ahead!
Priorities
Once you start researching what makes a good wedding great, you'll find an endless amount of major and minor details that you can include in your wedding. This can make a lot of couples think they need to include it all, which is not the case. Sit down and prioritise what is most important to you on your wedding day, and the things you are not majorly concerned about. It will help when deciding what to figure out first and which things you can leave until later.
Communication
Communicating your ideas, thoughts and queries to whoever needs to hear them will lessen the pressure of doing everything yourself. Choosing the right wedding party who is easy to talk to and understanding will help with this a great deal as you can ask them to support you with certain tasks. Communicating with your family will be one of the more stressful tasks, as some family members may not be onboard with your LGBTQ+ marriage. Do not invite anyone who is going to make you or your partner uncomfortable! It's your wedding and you are allowed to be strict with who you share it with. Check out our guide on "Who To Invite To a Gay Wedding".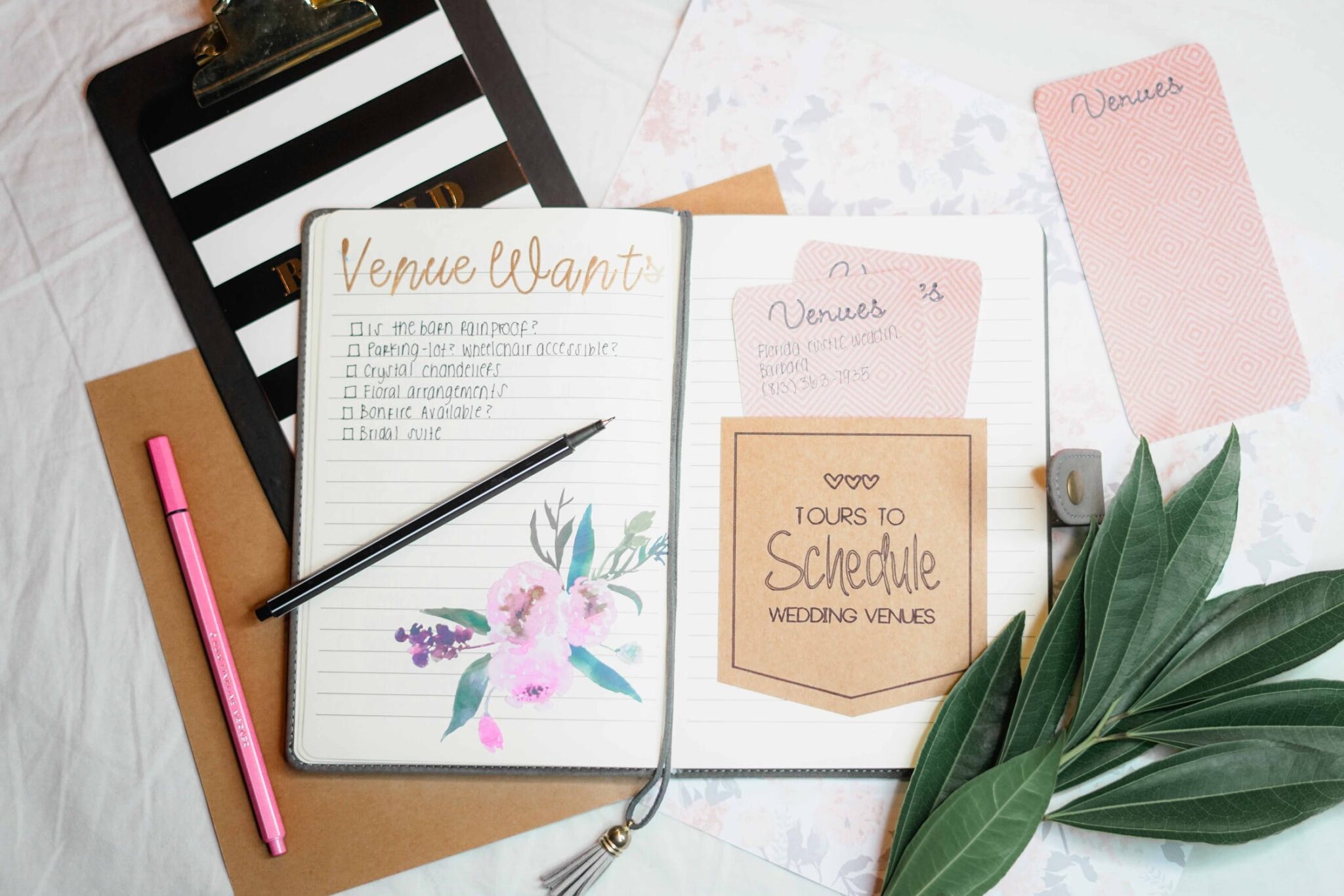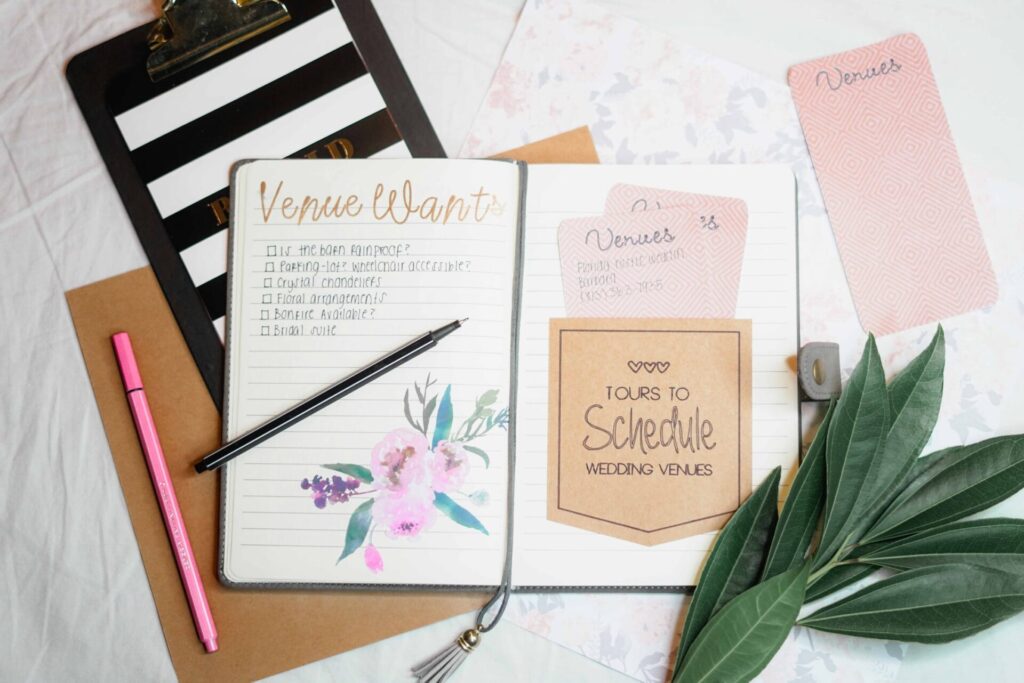 Back-up Plans
We never want to have to change our plans, especially when it comes to our wedding day. But being prepared for unexpected events and worst-case scenarios will help ensure your wedding is still perfect. Weather can change and vendors can have issues, so it is advisable to have backup plans in place. Regularly speaking to the venue and planning for bad weather will allow you to stay stress-free!
Self Care Kits
We cannot stress enough how useful these are. There will come a time in your wedding planning where you need to take a step back and shift your focus from planning to self-preservation. Creating a self-care kit that you can bust out when things become too much will help greatly. We suggest including face masks, candles, essential oils, a relaxing playlist/book/movie and your favourite snacks. Plus any other little bits that will help relax your mind and body!
Be Present
Take some time out of your wedding planning. Meditate, walk, and try anything that switches your brain from constantly looking to your future wedding and brings you back to being present. Our brains can become clouded with so many tasks to complete and people to talk to. It's really important to make time for you and your partner! This is your journey and you want to soak up every little minute of it – which can be hard when your brain is constantly planning for future events.
Quality Time
You'd be surprised at the number of couples who wish they spent more time enjoying being engaged, rather than focusing so heavily on the wedding, planning and marriage. It's easy to forget about the excitement of just being engaged! Often, as soon as you have that title, people are more interested in the wedding itself. Go on dates, spend time together, and just make time for each other during your busy schedules. Enjoy having this new relationship title before the stress and pressures that come with being married. It will remind you why you're getting married in the first place and put the focus back on you and your partner rather than all the friends, family and vendors involved.
Allocate Wedding Planning Time
It can seem that you're constantly researching, communicating and organising things to do with the wedding. A great way of minimising the amount of time spent doing this is to allocate specific days and times to talk about the wedding or to do certain tasks. "Wedding Planning Wednesdays" are an example, where you and your partner dedicate your whole Wednesday to sitting down, discussing and planning the event. Banning wedding talk from dinnertime and date night is also a great rule to have.
Hire a Wedding Planner
This isn't necessary, but wedding planners can be super useful for helping ease certain stresses of the planning process. They will contact and liaise with vendors, venues and registrars on your behalf. Plus they just generally help answer any questions you may have regarding the wedding.
Journal
An excellent tip we heard about is to journal the entire time. Journaling is a great tool for relieving stress, thoughts and emotions regarding marriage, planning and everything in between. It's your personal safe space where you can chat with yourself and identify any issues or topics that are bothering you. It's also a great way to document the entire journey for future reminiscing!
Pre-marital Therapy
This suggestion works wonders for any couple who wants to strengthen their relationship going into marriage. There will most likely be important life-altering topics that you need to cover such as your marriage expectations, financial management, boundaries, etc. Couples who have attended pre-marital counselling have said they have recommended it to all of their engaged friends and family. There were things they hadn't even thought about discussing, but were such important topics that they couldn't have had such a great start to married life if they hadn't.
Final Thoughts
We hope this list helps give you some ideas on how to stay stress-free during wedding planning. Weddings do not need to be as stressful as people make them out to be! They are supposed to be joyous occasions and centered around the couple, so be sure to remember that when things become hectic. It's easy to get caught up in planning an event for your guests over marrying the person you love, which is the whole point of a wedding! Following our tips, it should be easier to stay stress-free when planning your gay wedding.