The term gender-neutral can be a tricky one in its own right and many people prefer the umbrella of trans or non-binary. Our guide explains how to be gender-inclusive or remove gender from your wedding planning process – from the fox party to the ceremony and everything in between.
Weddings were a usual melting pot of hetero-normative labels and traditions. But gone are the days of "groomsmen" and "bridesmaids", with gender inclusivity coming to the forefront of modern celebrations. Whether you yourself are non-binary, or just an LGBTQ+ ally who wants to ensure all your guests feel welcome; there are many ways you can make your wedding meet the requirements of a gender-neutral wedding.
Pre-wedding Celebrations
In the wedding planning process, you will probably encounter gender-exclusive terms such as "bridal shower", "bachelor party" and other events that do not cater to the non-conforming crowd. There are plenty of titles you can use to replace anything that doesn't feel inclusive, for example:
Wedding Shower (to replace Bridal Shower)
Fox Party (to replace Bachelor/Bachelorette Party)
Sten Do (to replace Stag/Hen do)
Guests
If you are aware of guests who identify as non-binary or genderqueer, then you should make every effort to make them feel catered for and comfortable.
Changing invitations to address your guests by their full names, rather than "Mr. and Mrs."
Inviting all single guests to the bouquet toss (if you're having one!)
Providing an all-gender bathroom option
Have the master of ceremonies use gender-inclusive forms as addresses, instead of "Ladies and Gentlemen" – such as "Everyone" or "Honored Guests"
On the same note as above, ask the MC to refer to people as "Partners" and "Couples" rather than "husband and wife" when calling people up to the dance floor
Terminology
There is already a very established language used when referring to certain members of the wedding party, but these tend to be very gendered. This doesn't mean it's hard to swap out those titles for more gender-neutral terms. Below we have listed examples of gender-inclusive forms of address:
| | |
| --- | --- |
| Bride | Celebrant/Their Name/Beloved/Nearly Wed |
| Groom | Celebrant/Their Name/Beloved/Nearly Wed |
| Husband | Spouse/Partner/Significant Other |
| Wife | Spouse/Partner/Significant Other |
| Fiance/Fiancee | Intended/Nearly Wed/Spouse-To-Be |
| Mr & Mrs | Couple/Newly Weds |
| Ladies & Gentlemen | Everybody/Honored Guests |
| Best Man | Best Person |
| Maid-Of-Honor | Person Of Honor |
| Bridesmaids | Wedding Party/Attendants |
| Groomsmen | Wedding Party Attendants |
| Flower Girl/Page Boy | Flower Child/Ring Bearer |
Decorations
The decorations can sometimes be the most important element to a wedding, as they provide the color palette and showcase the theme. A common issue you may run into is that most decorations are specifically catered to the heterosexual community rather than the LGBTQ+ community. But not to fret! There are numerous vendors out there that have gender-neutral decorations and designs that will catch your eye. The main decorations that you may want to consider are:
Cake Toppers
Flower bouquets are swapped for boutonnieres
Name Placements
Invitations
Toilet Signage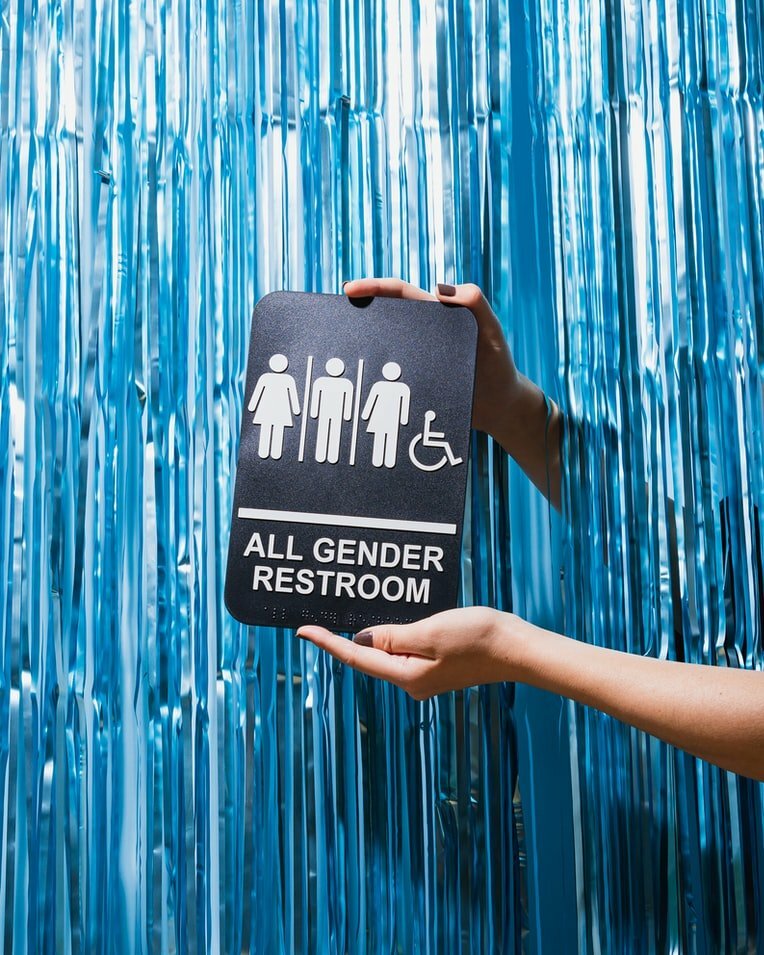 Roles
In a gay wedding or a wedding that doesn't have a "Best Man" or "Chief Bridesmaid", you may find that the roles are swapped around a little bit. This is where you can make your wedding as unique as you are by involving the people closest to you in special ways. Choosing someone to be your main point of contact but swapping the title is a common way that people still have the traditional roles of a hetero-normative wedding party. There is also a common misconception that wedding party roles have to be assigned by their gender or, for example, that you're not allowed to have a "male in the bridesmaid group" which is not true at all! You can choose whoever you feel fit to be by your side on your special day.
Other Things To Consider
As you can see, it's not difficult to create a gender-neutralized wedding that is inclusive of everyone! Some other things you may want to consider is having a gender-inclusive first dance song and adding some LGBTQ+ friendly music to the reception playlist. Asking the officiant to have a ceremony script that includes the correct terminology. Also, swap out the "Groom" and "Bridal" suite signage and ensure your ceremony readings have the correct pronouns.
We hope our essential guide to gender-neutral weddings is giving you a good idea of where to start. Have a look at our other guides: Fox Parties: What Are They And How Do I Plan The Perfect One?