Having a wedding abroad is a dream many people desire but is it really worth it or are there ways to have a destination without splashing out on plane tickets? In this guide, we will be going through all the pros and cons of a destination wedding so that you feel confident when beginning your gay wedding planning!
What Is A Destination Wedding?
A destination wedding is where you choose to hold your wedding ceremony and reception abroad. You and your guests will have to travel a certain distance and stay overnight. Some choose to celebrate their marriage in a different country for many reasons, sometimes because gay marriage may not be legal in their country or perhaps they have family abroad. Some choose to marry abroad because they have just always dreamed of getting married on a beach but they are in a cold, snowy country without a beach in sight! Whatever the reason for marrying abroad, there are going to be pros and cons so it's a good idea to know what you're getting yourself into before making the big plans.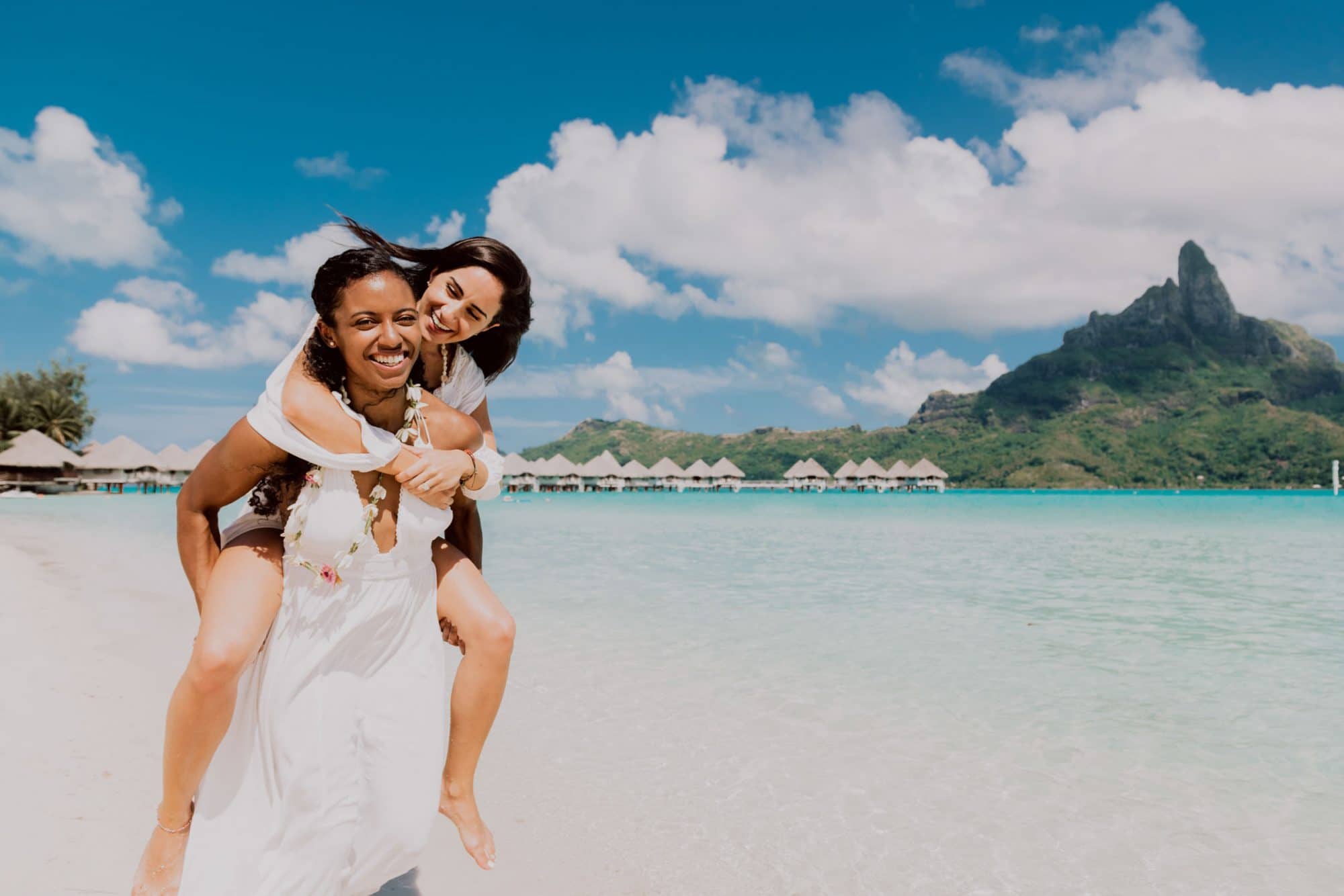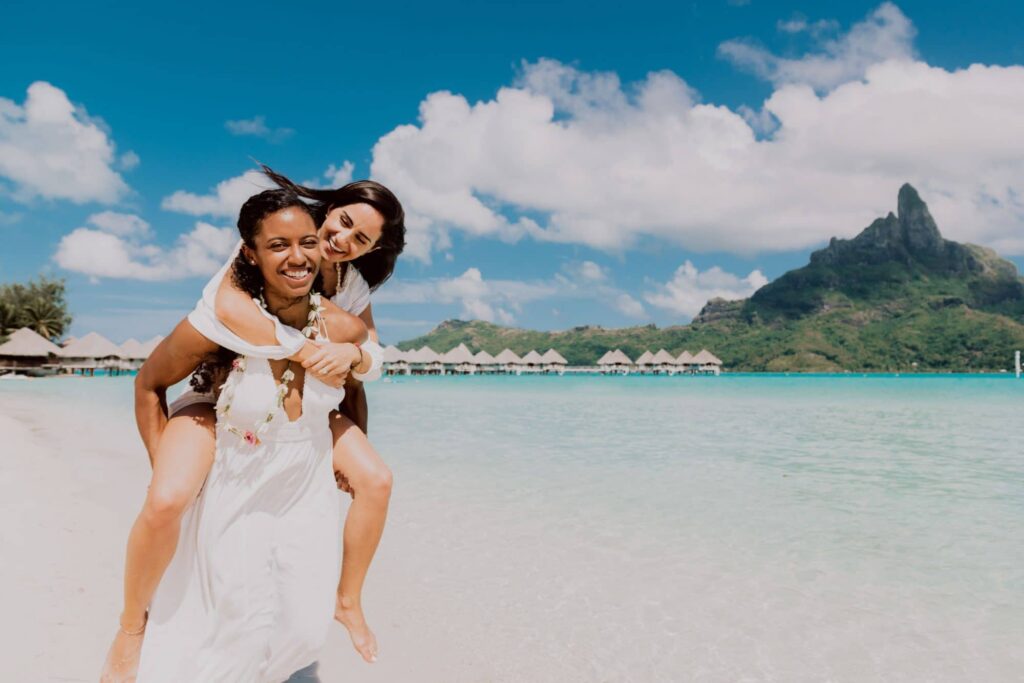 Pros
Ceremony, Reception & Wedding – One of the biggest pros to celebrating your gay marriage in a beautiful foreign country is that you can roll all the festivities into one big long trip. This is perfect if you want to honeymoon directly after the reception but without all the stress of travelling straight after the big day. A lot of couples will combine their gay wedding with a gay honeymoon.
Selective Guest List – There's nothing worse than having to awkwardly explain to people why they weren't invited to your wedding. Having it abroad means it'll be a more intimate affair because not everyone would be willing to spend money on plane tickets. As a result, you can be more selective with the guest list!
All-Inclusive Packages – Many hotels/resorts offer wedding packages and there are specialist gay weddings abroad services like Out Of Office. Usually, this includes all the main costs of a wedding (Flowers, catering, cake etc..). It can also sometimes include accommodation which brings the overall cost of the wedding down by quite a bit.
Dream Backdrop – This may not be a prominent pro for some but some people prefer a certain kind of ambience on the day and in their wedding pictures. A destination wedding can offer the ultimate backdrop depending on whether you want a tropical, wintery or mountainous wedding. This saves you money and time on flowers and props to achieve the dream look you're going for.
Cheap Flights – If you are an avid traveler you've probably built up a decent amount of air miles or points. These can save you money on plane tickets, again making the overall cost slightly cheaper.
Dream Holiday – Planning a destination wedding means you usually get to visit the country that you've been dreaming of. Whichever location you have been itching to see can now be a reality!
Memorable – All your guests will more likely remember a wedding in Aruba than one in your home country. That's not to say one is better than the other. It's an entirely different experience travelling for a wedding as the guests get a holiday out of it as well!
Longer Celebrations – Some may think it's great getting the wedding and reception done and dusted within a few hours in a day but others may want the celebrations to last a little longer. Having a destination wedding means you can plan excursions and activities for your guests and really interact with everyone, this is a lovely pro as we know it's so difficult to get round to all your guests in one day.
Cons
Rejected Invites – Not everyone may be able to attend as they might not be able to get the time off work. They also may not be able to spend the money on flights or can't travel due to personal or health reasons. This means certain family and friends will be missed during the festivities. To avoid as much disappointment as possible, try sending out save-the-dates at least 12 months in advance.
Planning – You'll have to be open-minded when you plan a wedding abroad. You won't be there in person to see the location, catering and other details until you arrive. There will be lots of back and forth video calls to approve everything but you'll have to just trust the process! Be sure to meet your vendors and be honest with them. Schedule regular meetings to discuss options and progress.
Interrupted Honeymoon – If you do plan a destination wedding, you may have a few guests decide to extend their trip into a full holiday. If you stay in the same resort after the wedding, your honeymoon could be disrupted by family or friends. This can be avoided by making sure you book a different hotel for your honeymoon. If this isn't doable then express your needs for privacy on your honeymoon, your guests will understand!
Marriage Legalities – Some resorts won't include a marriage license, this means you'll have to deal with language barriers and foreign laws to acquire a license. Some countries may require a minimum of 12 months' notice and tons of paperwork before you can have a legal marriage. You can acquire a legal marriage license either before or after your wedding and instead have a symbolic ceremony.
Limited Options – A big con to a destination wedding with an all-inclusive package means there will be limited style options. The centerpieces, flowers and cake options the hotel provide may be limited. You may have to source other wedding vendors and spend extra money on these items. Do your research! Check out testimonials and reviews from other couples who have married in the country of your choice. It's a great way to gather inspiration and see what different hotels have to offer.
Extra Stress – There will always be extra stress when planning a destination wedding. You have to keep in constant contact with your guests, vendors and hotel representatives. This means you may feel overwhelmed with the amount of communication needed to make sure everything runs smoothly. To try and avoid as much stress as possible, gather all the information your guests will need. Compile it into an easy to read itinerary, wedding websites are perfect options for this. Complete with an FAQ so you can limit the number of questions your guests will ask. Make sure to share the workload between you and your partner!
Size – A destination wedding usually means it won't be a grand affair. To some this is a good thing but to others, it means a selective guest list which can cause a number of issues. For those who want still want to celebrate with guests who couldn't attend the wedding. Save the reception for when you get back home and enjoy what the destination has to offer after your ceremony instead.
Expensive – It's silly to pretend that destination weddings won't rack up a pretty big bill, from the flights to accommodation. The sooner you begin to budget for this and let your guests know in advance, the better and cheaper the experience will be. There are many ways to save while planning a destination wedding: I.e. all-inclusive packages, air miles and travelling during off-peak seasons.
Extra Things To Consider
Secure yourself a local wedding planner. They will help make the planning process a breeze and act as a point of contact throughout the process.
Use a travel agency (like Out Of Office) that specializes in destination weddings. They tend to make a commission from the hotels and airlines used so there's no extra cost when using them and they can help provide advice on the legalities.
Consider travel and/or wedding insurance. This will protect you from losing any money due to issues and complications that may be beyond your control.
Final Thoughts
As you can see there are just as many pros as there are cons to a destination wedding. It really just depends on whether you are ready for the challenge or not! The process can be easy with the tips we have suggested. Do not try to rush it, the only way to poorly plan a destination wedding is if you rush! So take this article, start to make a plan and do your research to avoid disappointment. Allow your gay destination wedding dreams to come true!