With gay marriage more popular than ever because of the legalisation happening across the world, there's no better time to start getting inspiration for your own gay proposal! In this guide, we will share our tips on how to choose the perfect ring.
A word of advice – before planning to buy a ring, it's probably best to figure out whether you and your partner are ready for marriage by reading our helpful guide here. So now that you know you're ready to commit, the fun can really begin!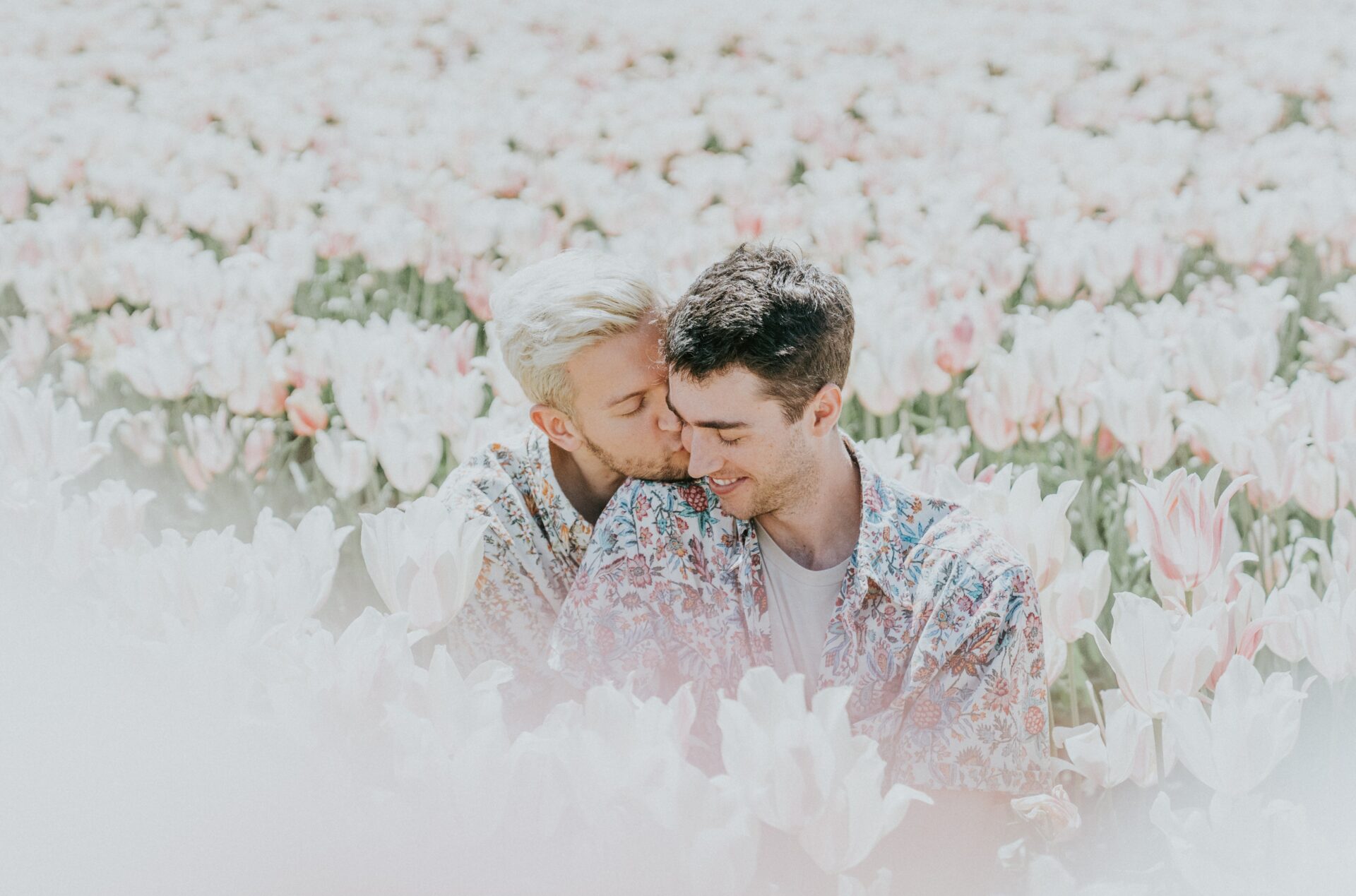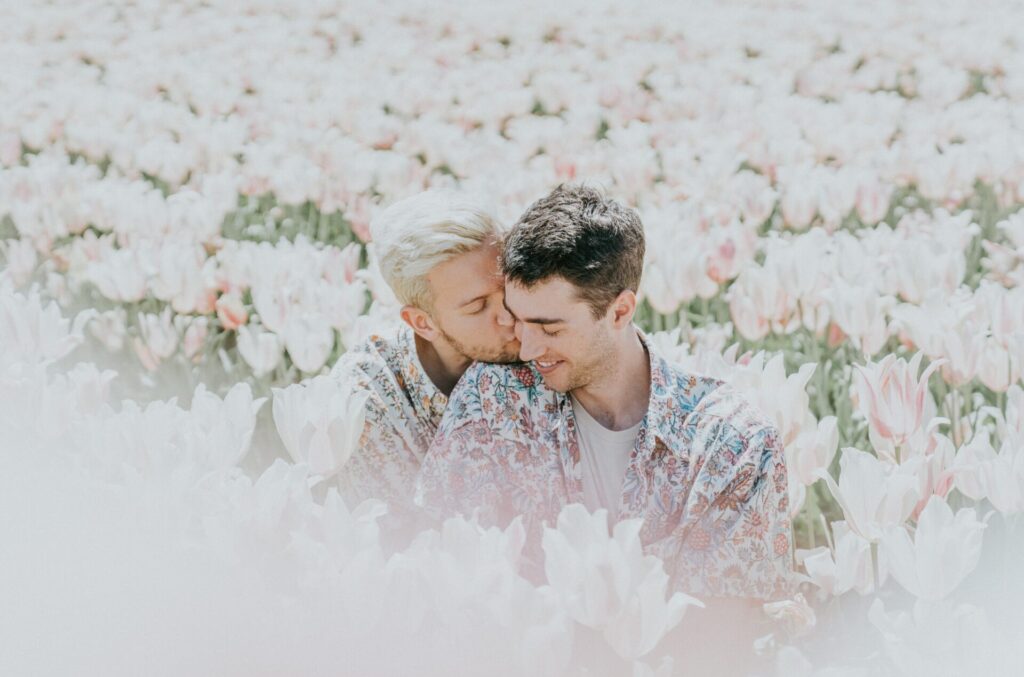 What To Consider Before Buying A Ring
The rules are a little different when it comes to a gay proposal and that is because there are no rules! In a typical heterosexual proposal, the 'man' drops to one knee and presents a ring that he has chosen under the guidance of the 'female's' loved ones, his own choosing or a family heirloom.
I'm not sure about you but not having a say in the ring you're going to be wearing for the rest of your life sounds a bit unfair, right? You should have discussed the idea of marriage which usually brings around the topic of rings and if you haven't you're probably not ready for this type of commitment yet. You may have discussed not having an engagement ring and just saving that space for fancier wedding rings or you may straight up decide against rings altogether! But if that's the case you probably wouldn't be reading this article!
Who Wears An Engagement Ring?
The proposee is generally the person who wears the engagement ring but a fair few LGBTQ+ couples choose to match their rings. No matter what your gender or sexual orientation is, you shouldn't feel prohibited from creating your own customs and traditions. You don't need to 'propose back' for you to be able to wear matching rings. Whoever is proposing can simply present both rings, once you have an answer from your partner (hopefully a yes!) then you can wear your ring.
Should We Shop For Rings Together?
This is completely dependent on whether you think your partner is going to refuse your proposal due to the ring you chose without them or if you have confidence that with the right amount of pointers you can choose the perfect ring without them there! However, If you are anxious they are going to hate whatever you choose but still want an element of surprise then the next time you're out shopping, try detouring past a couple of jewellers and subtly point out rings you find attractive and hope your partner points out their favourites too! This works when you are both aware that a proposal is on the cards, otherwise your partner may think you're trying to hint to them that they should be popping the question.
How Do I Find Out My Partner's Ring Size?
There are a few crafty ways of figuring out your partners' ring size without them knowing. For example, you can try measuring their finger while they're asleep using a piece of string and marking it. Similarly, they may already wear rings so try to snatch one and take it to a jeweller to be sized.
Can We Use Something Other Than Rings?
Rings may be the typical token of affection but there are other options that can be used in the replacement. Some couples choose to save the option to exchange rings for the wedding day. Metal engraved bracelets have been a popular option. Necklaces are also very popular and a more outlandish, permanent option we've seen is tattooed initials on the ring finger! Whatever works for your relationship and lifestyle is what you should really be focusing on. You should be creative and tailor the proposal experience and engagement tokens to your unique relationship!
Budget
The budget entirely depends on what sort of gem, cut and style of ring you're thinking of purchasing. The average a couple can spend is around $3000+ (around £2900+) on an engagement ring. Your budget will also depend on whether you're even going to have rings as your proposal gift. Figure out the style of ring, the stone you would love and gather some rough prices. If the price seems unrealistic then decide how much you're actually willing to spend then work off of that. You may even discuss saving money on the engagement rings so you can splurge on the wedding rings.
Style
There are so many styles of engagement rings that it can be slightly overwhelming when you go to a jeweller and these fancy names start flying at you! But not to fret, we have listed the top five engagement ring styles for a gay proposal.
Gold & Diamond – A beautiful, traditional gold band showcasing a glistening diamond.
Eternity Ring – In other words, it's known as an infinity ring. Typically a titanium band encrusted with jewels around the whole circumference.
Cushion Cut – A square cut jewel with rounded edges to give the soft silhouette of a pillow. Can make the center jewel look much bigger.
Solitaire – The name for the ever-popular solo gem design. Typically a singular diamond is mounted upon a simple band.
Princess Cut – A regal name for a regal style. The princess cut is a simple band encrusted with three smaller, vertical jewels in the center.
Material
Now that we've discussed the style of the jewels and bands, here is a list of the materials you can use to personalize your engagement ring even more. Here's the top five metals and jewels you can use to detail your ring.
Metals
Gold – A versatile metal that stands the test of time and comes in many different colours such as white, yellow and rose.
Titanium – Durable and strong, it has become a more popular choice in recent years due to its hypoallergenic qualities and lightweight feel.
Silver – Timeless and reliable. Easy to pair with outfits and a go-to choice for a traditional look.
Stainless steel – One of the more customizable metals as you can plate it in many different colours such as black and gold or even change the finish from shiny to satin.
Carbon Fiber – A modern choice for the modern couple, super strong and gives a unique industrial feel.
Jewels
Diamond – This wouldn't be a list without the classic diamond, this precious stone brings sparkle to any band.
Emerald – Another precious gem that exudes luxury and elegance with it's distinct green colour.
Sapphire – The last precious stone mentioned on this list but a beautiful one at that. Typically associated with being a rich blue colour. It can range from purples to yellows and even white which can potentially be a more budget-friendly option compared to diamonds.
Garnet – For those looking for an antique feel, this regal style gem often is mistaken for rubies which isn't a bad thing as it's a much cheaper option!
Lapis Lazuli – A gorgeous blue stone that brings luxury while staying relatively cost-effective, looks stunning set upon a gold band.
Final Thoughts
Whether you're looking to splurge, save or skip out on engagement rings, there are so many ways to kick off the next step in your relationship and you should remember that it's not about the size of the stone or how expensive it is, it's about how it showcases your commitment to the relationship and your affection.
For some people they'd rather not propose with a ring. If that's you, then we have a guide to gay engagement ring alternatives.
Now that you have the ideal engagement gift ready, it's time to plan the proposal and we have the guide just for you! You can check out our guide on "Planning The Perfect Gay Proposal".