You've been asked to be the Best Man at a gay wedding, how do you write an appropriate speech? This guide will explain exactly how to write a Best Man's speech that is tear-jerking, laughter-inducing!
What is a Best Man's Speech?
A best man's speech is a chance for the them to introduce who they are and how they know the groom/bride. It usually contains a few funny stories and tidbits that highlight parts of the groom/bride's journey to marriage. The best man's speech is usually scheduled after the groom has had a chance to speak but at a gay wedding, there may be different titles. You may actually be looking for our other guide on "How To Write A Maid-Of-Honor's Speech At A Same-Sex Wedding". There will more likely be two Grooms or two Brides, potentially non-binary or genderqueer so the order of speech comes may differ. It is a good idea to start planning your speech way ahead of the big day to save yourself from pulling an all-nighter before the wedding!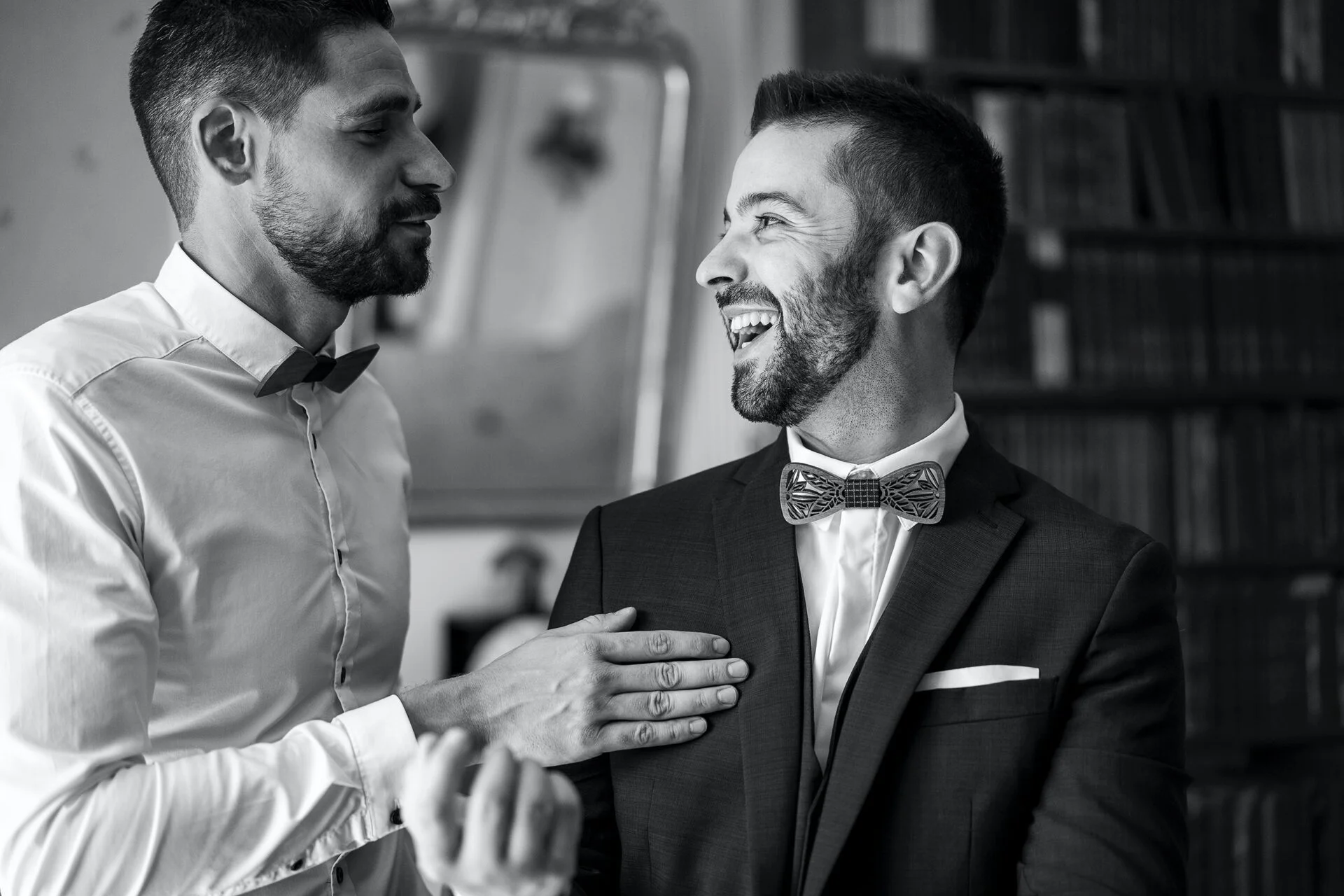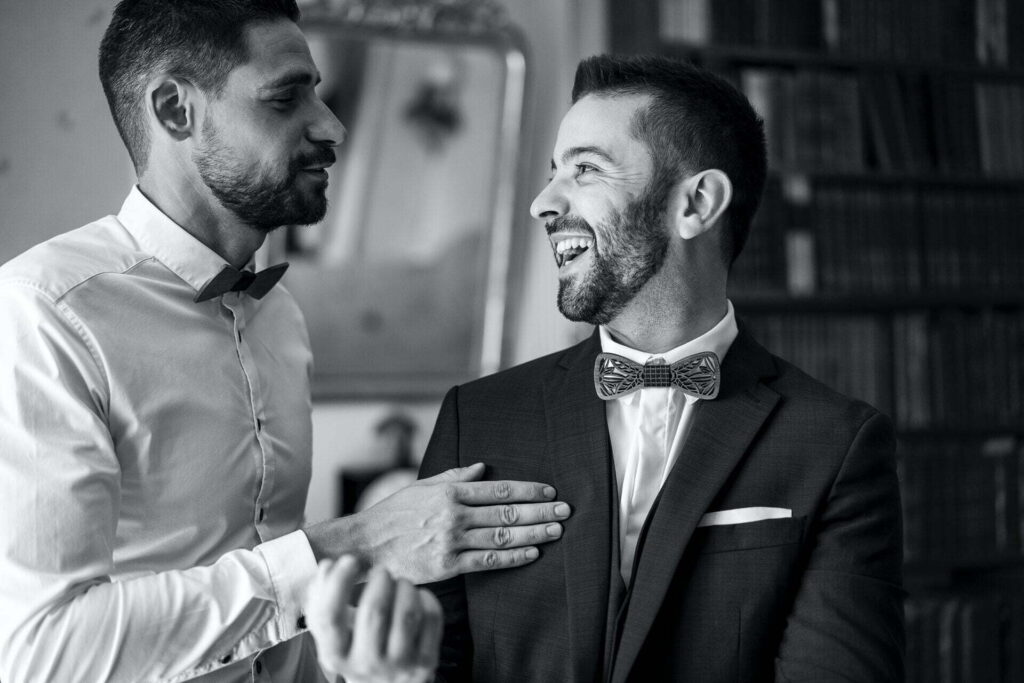 What to include in a Best Man's Speech?
There are many things you should include in your speech, here's a list so you get the basic idea of what a speech should look like.
The opening line is really important as it's where you draw your audience's attention and set the speeches tone. Thank the previous speakers if there were any and potentially read out any messages from guests who couldn't attend.
Introduce yourself in the beginning. There's no point in writing and performing a great speech if the audience doesn't know who is speaking!
Include the story of how you met the groom and how you became close. It gives the audience an opportunity to understand why you are the "Best Man". Establishing a connection between the audience and yourself.
A lot of people wouldn't consider having a theme when it comes to a speech but it can help the structure of it. It can also make it easy to remember and keep the audience interested. What we mean is that you choose a subject to base the speech on, such as "travelling". You and the groom may have travelling stories that can relate back to the couple (perhaps they met abroad).
Once you have a theme it will be easy to brainstorm ideas for the stories you want to include. Jot down around 5/6 anecdote ideas, you can pick which to include when finalizing your speech.
It's important to include details that will leave the audience feeling like they know the groom/couple better than before the speech started.
An anecdote that shines a light on a personality trait of the groom's that you admire. For example telling a story about a time when you needed help and the groom dropped everything to assist you with that issue or when the groom was facing a challenge but managed to overcome it.
A good idea is to include a way the grooms life has changed in a positive way due to their partner coming in.
Following the previous part, you should then include a toast to the happy couple but keep it simple and short.
Finish with a small wrap-up of the whole speech. One last moment to point out the highlights of your journey with the groom and how much it has meant to you being their "Best Man"
What to avoid in a Best Man's Speech?
Try to avoid including stories that will hinder the audience's perspective of the groom or the couple. That means you probably shouldn't include the story about the ex's car they scratched up when they were 16. On the other hand, try include at least one embarrassing/humorous story that humanizes the groom but won't ruin their public image.
Anything that may offend someone in the audience should be skipped out. Drugs, sexual humor and past relationships are high up on the list of things to avoid.
The speech isn't about you, so ensure that it relates back to the groom/couple when talking about yourself.
A prolonged speech will lose the interest of your audience. Keep the anecdotes short, the tempo fast and the pauses to a minimum.
Just because it's a same-sex wedding doesn't mean it should be littered with references and innuendos to the LGBTQ+ community. Don't bring it up unless you have been instructed to say something about the couple's sexuality.
Think about who's sitting in the audience and write it from their perspective. For example, If you were a long-distance uncle who hadn't seen the couple in a long time, what would you want to learn from the speech and what would you rather not know at all?
Everyone thinks a speech should be hilarious from beginning to end. You aren't auditioning for Saturday night television, you are toasting to the happy couple on a very special day in their life so bringing emotion over humor will be more appreciated.
A big tip is to limit how many drinks you have before performing your speech. You want your speech to memorable for the right reasons and not the wrong ones.
The basic structure of a Best Man's Speech
An easy format to follow for a best man's speech at a same-sex wedding is this:
Introduction
Address the audience and express your thanks to the previous speakers
How did you meet the groom?
1 or 2 interesting anecdotes
Your appreciation for the couple
A toast to the newly-weds
Final few words
An example of a Best Man's Speech
Below we have shown an example of a heartfelt best man's speech that includes a similar structure to the one we suggested above:
"Good evening everyone. Thank you *previous speaker* for that hilarious speech, mine's definitely not as funny, but I sure hope to see a few tears!
For those of you who do not personally know me, My name is ____. I met the groom at the young age of ___. I'd been an only child forever and had always longed for a sibling until I met *grooms name*. I quickly realized was going to be the sibling I now couldn't get rid of.
In school, we had a tough time with some mean kids but *grooms name* never let me feel alone. From waiting after class so I didn't have to walk the corridors alone to staying after school with me when I had detention, They were always there.
This continued into college even when we had completely different schedules. *grooms name* made sure to take time to see if I was settling in okay. I'll never forget when a group of people I was doing a presentation with were picking on me. *grooms name* came to our study session and called them out on their behavior. They apologized straight away and fairly included me in the project.
That's just one of the many things that *grooms name* did to look out for me. That trait followed us right through to where we are today. Loyalty is a hard thing to come by yet *groom's name* seems to show it effortlessly. I'm beyond grateful to return the favor by having your back on your special day and into your new chapter of life. *addressing the partner* You truly have found someone who will forever be there by your side through the good times and the bad and I know you will do the same. Thank you for inviting us all to celebrate this momentous occasion and share this moment with you. I would like you all to raise your glasses for the happy couple. To the bright light in darker days and to your newest chapter together as a married couple, Cheers!"
And if you need further inspiration, we asked ChatGPT how to write a funny speech for a gay wedding.