You are about to choose your bridesmaids, or the bride asked to be a part of the wedding party. But maybe it's your first and you're not quite sure what a bridesmaid really does? This guide will explain the role of bridesmaids and a bridesmaid's duties at a gay wedding! And because a groom at a gay wedding can also choose bridesmaids (or maybe they could be terms groomsmaids) this article is designed to be interchangeable depending on who is getting married.
What is a Bridesmaid?
A bridesmaid is usually one of a few selected individuals who will accompany a bride (or groom!) on her wedding day. They are there to assist the Maid-Of-Honor with their bigger tasks and offer any additional support or assistance that the bride/s or groom/s may need. Historically, the bridesmaids would protect the bride by wearing identical dresses and veils to the bride. This was for a few different reasons. Some sources say it was to protect them from being kidnapped by jealous suitors or rival families for their dowries. Another source suggests that the bridesmaids were there to confuse evil spirits that wanted to curse the bride during her ceremony. Although now in the modern-day culture they are typically tasked with getting the bride as drunk as possible at their Hen Do or Bachelorette party!
Who can be a Bridesmaid at a Gay Wedding?
A bridesmaid used to be an all-female group. But with people straying further and further away from those types of traditions, the bridesmaid group can consist of anyone who is close to the bride or groom. This can be friends, siblings, close relatives, and soon-to-be siblings-in-law – but probably not that one estranged cousin you barely see.
The bride or groom should choose their bridesmaids based on how close they are, their reliability (you don't want a bridesmaid who is known as a no-show) and those who you know are going to be supportive and considerate of your wedding planning process. If you know that you and that one friend always butt heads when it comes to opinions, then that may not be your first choice as they are probably going to make a stressful situation worse. Your bridesmaids are there to ease some of that stress, not add to it. This means there may be some disappointment amongst people who thought the main player would offer them the position of bridesmaid. But it's not their day, it's yours!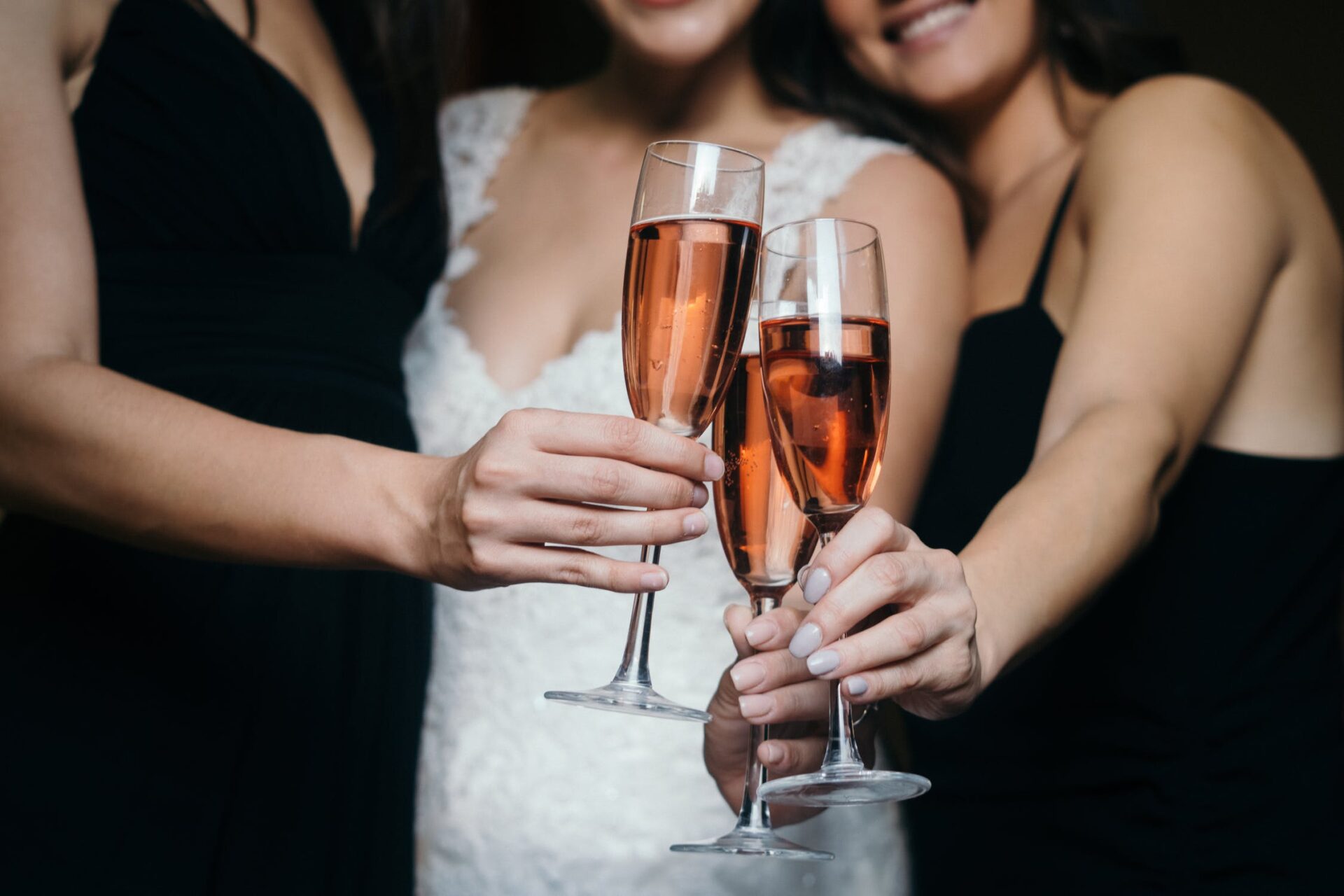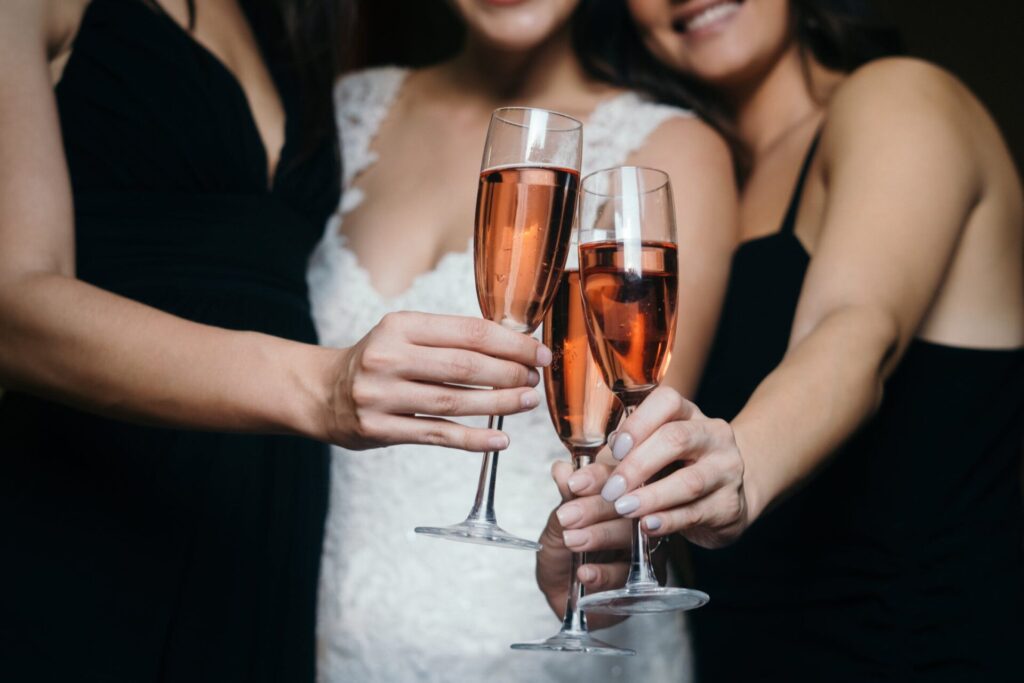 What are a Bridesmaid's duties before a Gay Wedding?
Communicating with the Brides/Grooms! Make sure you know what is expected of you throughout the wedding journey; this is vital in being the best and most supportive bridesmaid you can be.
One of the most anticipated tasks of a bridesmaid is to assist with the planning of the Hen Do, Bachelorette party or Fox Party. It's a rite-of-passage during the wedding planning process for everyone involved so get stuck in! Typically the maid of honor will be in charge of the party planning. Make sure if you have any good activity suggestions to liaise with them.
Assisting the maid of honor with any tasks that she has been assigned such as DIY projects would be highly appreciated. The maid of honor has quite a huge responsibility in trying to take the pressure off the bride or groom. This sometimes means they can become swamped themselves! So taking the initiative to ask if there are any smaller tasks that the bridesmaids can take over is a great way to help.
Shopping for wedding attire is one of the more fun activities during the planning! Spending the day with great people trying on beautiful outfits isn't a draining task until you've tried on your 56th purple dress trying to find the right shade. Being punctual for all fittings and alterations is a must though! There's nothing worse than getting to the wedding day but someone's outfit doesn't fit because they missed all the fittings.
Don't be afraid to offer your honest opinion when it comes to things like wedding hair, makeup and clothing. The bride or groom has chosen you because she values your friendship and your opinion. If you do not feel comfortable with something, voice it! Everyone wants to feel and look good on the day. There will be plenty of pictures, so make sure you're honest. On the other hand, do not try and force your suggestions upon the couple purely because you don't like the color scheme. It's not your day, remember that.
One thing that may worry the bride or groom is making sure that everyone gets along. They may have a variety of personalities and some may clash. Maintaining the peace between everyone by not involving yourself in unnecessary drama and diffusing any awkward situations will be one less thing for the bride to worry about.
This isn't a requirement but the maid of honor may have already planned a gift for the bride. If not, liaise with your fellow group members and choose something as a small memento to show your gratitude towards the bride or groom choosing you as part of their wedding party.
Attending the rehearsal dinner is also an unmissable event. You want to make sure that everyone knows where to walk and stand!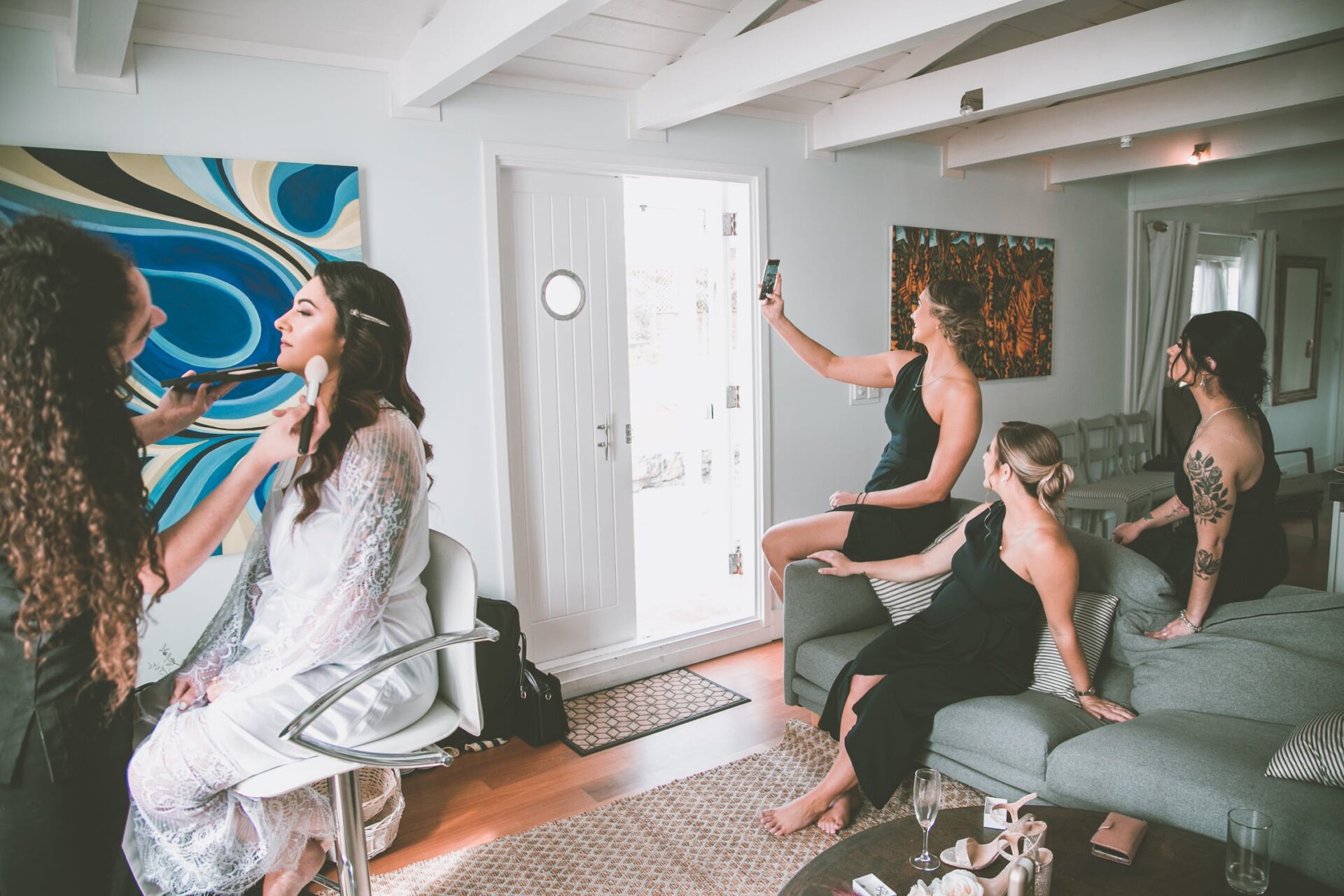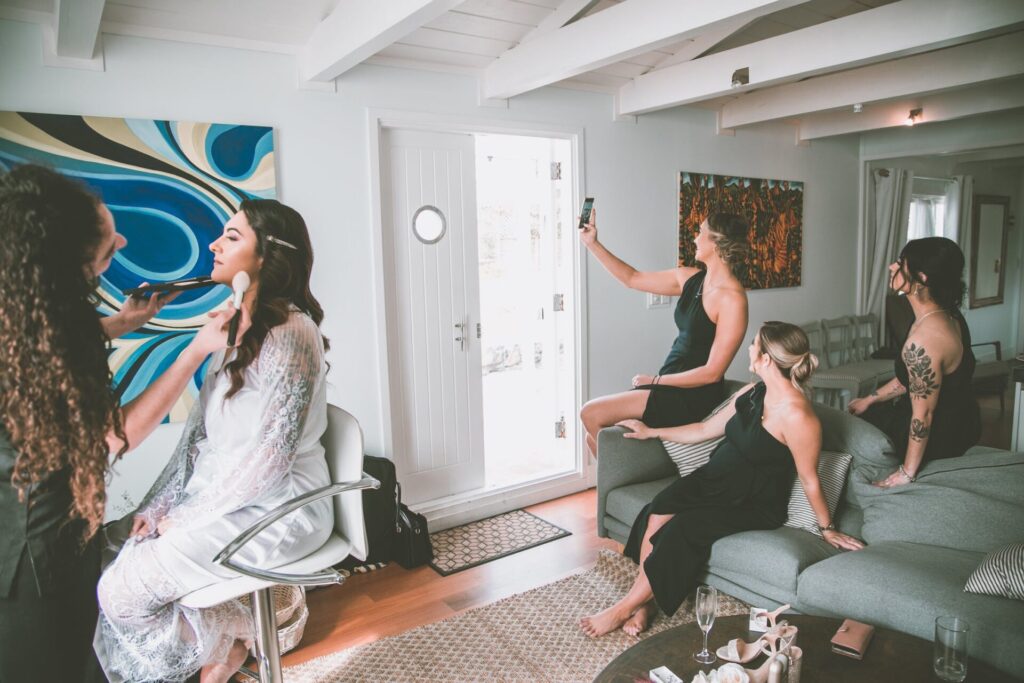 What are a Bridesmaid's duties during a Gay Wedding?
The night before the wedding there are a few tasks that you can do. Hosting a pamper night (or gentle pub crawl) for the bride or groom and their party gives you guys a chance to relax, chat about any final details that need remembering and get your skin glowing and soft (or enjoy a few light beers)!
Laying out all accessories and jewelry, prepping any emergency kits and asking if the bride or groom and maid of honor need anything for the big day that they may have forgotten.
It's the morning of the wedding and as much as those mimosas are tempting, hold off until the maid of honor toasts to the bride. When you do consume any alcohol, make sure you have eaten. And limit yourself to only 1 or 2 glasses before the ceremony. You do not want to be remembered as the drunk bridesmaid who was slurring all their words!
Although you attended the rehearsal dinner, there should be one final run through the wedding itinerary with all the bridesmaids and ushers. This will ensure everyone is on the same page and any questions can be answered now.
One of the bridesmaids will probably have to hold onto the bride or groom's personal belongings such as their phone, perfume or any other items they will need or want on the day but cannot carry. If this is you then organizing a small bag that can carry these items will be necessary.
Have fun and keep your spirits high! It's going to be a very long day so maintaining the celebratory spirit is key amongst the guests. Try being the first person on the dance floor or participate in any entertainment that will lift the atmosphere. The couple may be busy taking pictures or speaking to guests, so you should try and involve everyone in the festivities. Everyone will remember you as the party starter!
What are a Bridesmaid's duties after a Gay Wedding?
There aren't many other tasks a bridesmaid needs to do after the wedding, as most of their duties come before the wedding day. Perhaps returning any rentals and sending any pictures you got of the day to the group chat!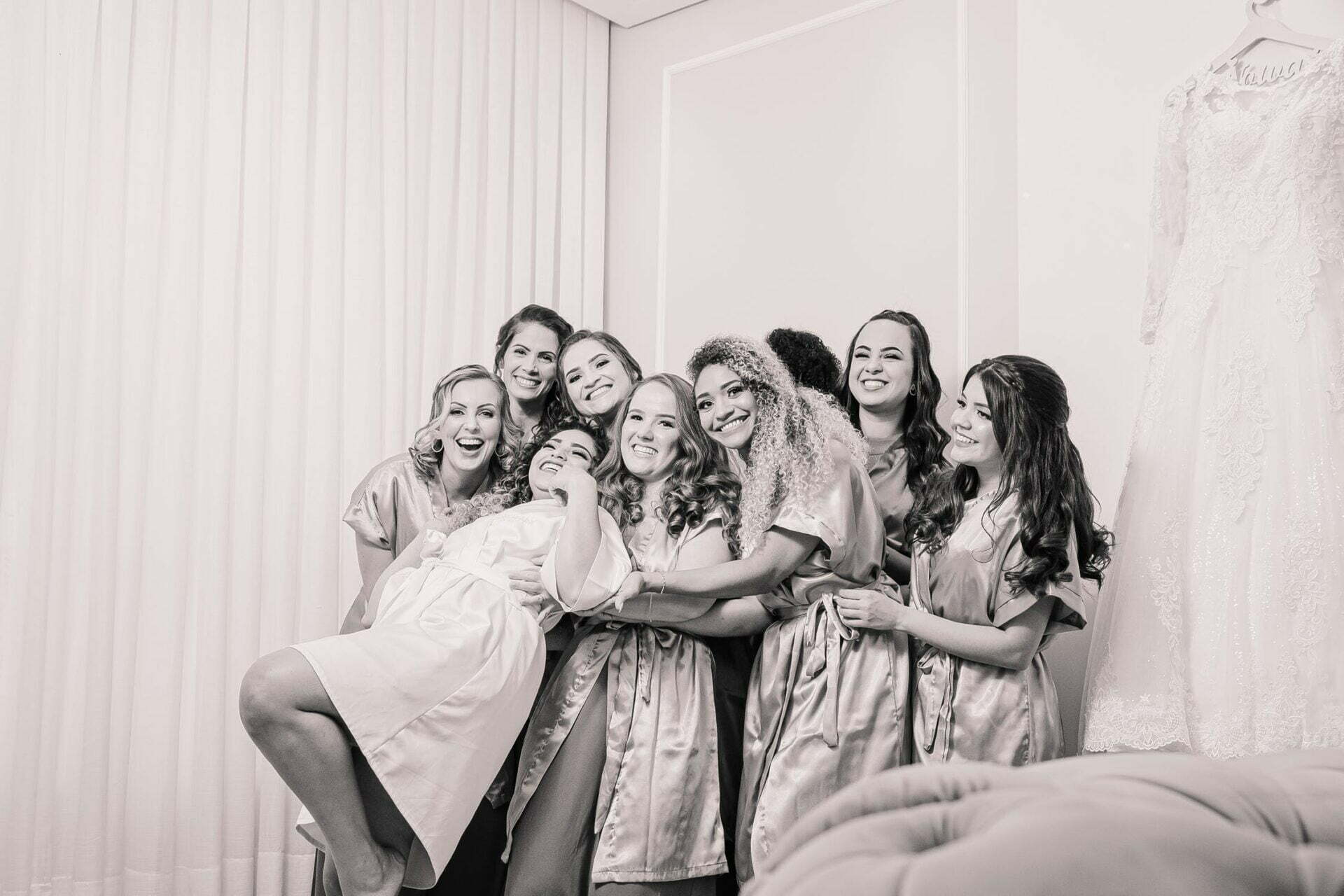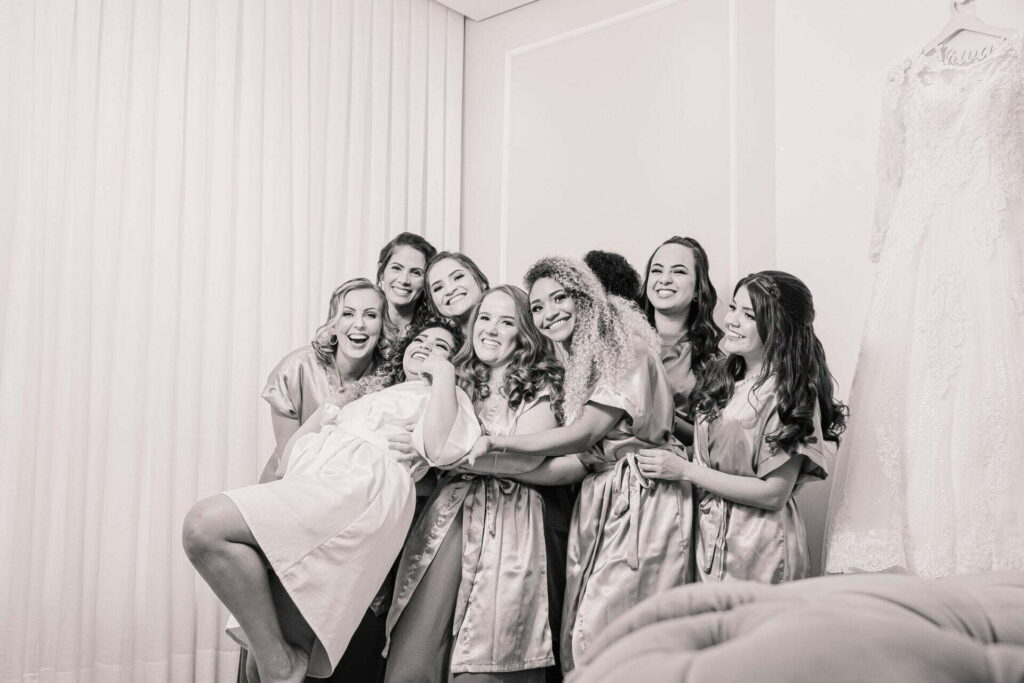 Are there any key differences with Bridesmaids at a Gay Wedding?
A bridesmaid at a gay wedding may be referred to as something different such as Bridesmen or Groomswoman. Ditch the title altogether and call everyone Wedding Attendants. Depending on what your guests are comfortable with and the type of wedding party you have. Yes, the title is changing, but that doesn't mean the responsibilities and expectations of that person should change too! Everyone can have a role in the wedding and that is completely up to the couple to appoint. It's your gay wedding, so plan it how you want it!
Have a look at a groomsman's duties at a gay wedding.